This year has been amazing for ice in Utah. It has been nice to set aside some of my skiing adventures to spend some time on the ice and meeting new people. A month ago Mammut team manager Dean Lords invited me to the Ouray Ice festival. Always up for something new I decided it would be a good experience to see and meet some new people. On arrival I was able to meet two of Mammuts ice climbing athletes Whit Magro and Andrea Charest. Although temps were sub freezing and the space heater at the tent wasn't enough to keep warm there was plenty of cool stuff going on to keep the mind off of being cold and focused on the festival.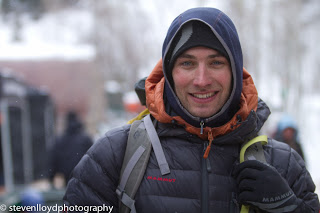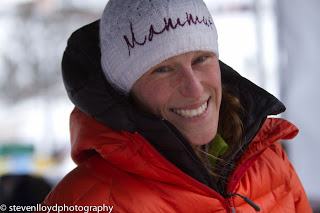 Whit and Andrea pretty happy after the comp.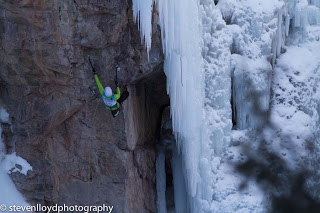 Andrea had the first route of the day for the comp. Amazed that she did so well, especially for how cold it was.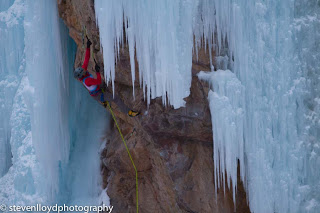 Whit on the mixed route. He took 4th in the mixed comp and second in the speed comp. Congrats man.
So after Ouray it was back to Utah. With some new friends and some new excitement to climb ice, I was on a mission to get out and see what conditions were around home. My new friends Matt and Sarah park were eager to get out as well and we had heard that the Spear of Fear in Joe's Valley was in and ready to go. I had seen pictures of it before and was pretty excited to actually get to be on it. We found it in great condition and had an amazing day and scored some great photos.
Next on the list was Maple canyon. Maple has always been well known for summer time climbing, but there is also wold class ice climbing there when conditions are in. Just so happens that they were some of the best conditions on years.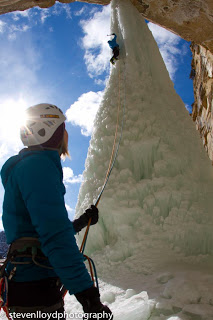 Sarah watching her newly wed husband climb the Spear of Fear.
This last month has been really amazing and the friendships I have made will last for many years to come. Special thanks to Dean and His wife Heather. Possibly two of the nicest and genuine people I have ever met. I could not have done it without you guys.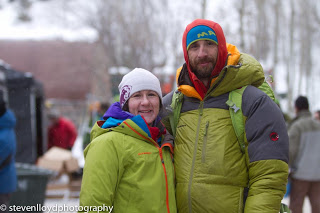 Dean and Heather wrapping up after a successful Ice Festival.
Steve Lloyd