There is a common misconception that there are no big ski lines on the east coast. As a Vermonter I know this to be untrue. While the Green Mountains are rolling and treed, the White Mountains next door in New Hampshire have some gnarly peaks with pretty radical descents if you are willing to work a little. This winter I had the pleasure of filming with a group of skiers and Meathead Film athletes who are looking for the Big Mountain experience in New England. We have primarily stayed within the confines of the New Hampshire border, but there has been plenty of powder slaying with a dash of crust and ice thrown in the mix to keep us all on our toes.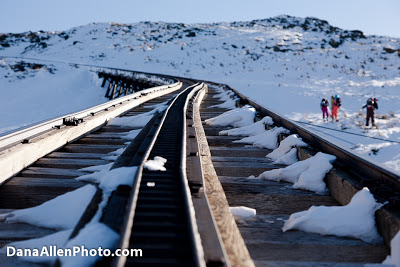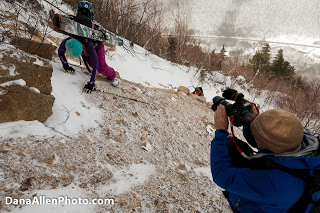 While the weather was not always bluebird, we got some good photos and footage, and I got a great workout on the 4-6 mile approaches and the skinner up the Mt. Washington cog railway we tackled every weekend. Needless to say I broke my new ski boots in quickly. I was also surprised that in the past few months, I managed to get out and explore more than I ever did living out west over the course of a winter. There is an inspiration in the community here to experience the outdoors no matter how bad the weather is and no matter how inaccessible the line is. I have learned terms like "shwacky" and "sniggledy wiggledy" which refer to how awful and thick the hobblebush is. I have also trained myself not to close my eyes when I ski through said "shwack." This has improved my chances of avoiding facial scarring.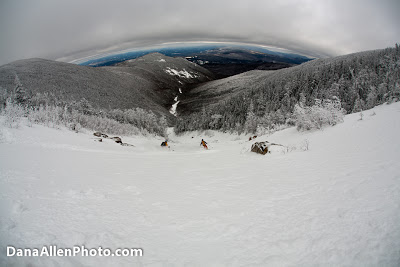 All said, the couloirs we skied were aesthetic and Mt. Washington is as majestic as ever. I am excited to see what comes of these days in the Whites and I know there will be plenty more adventuring to come.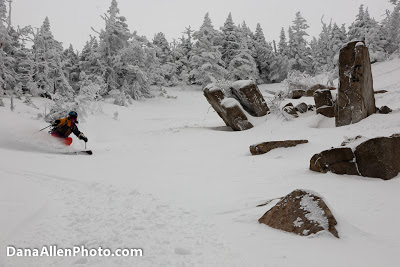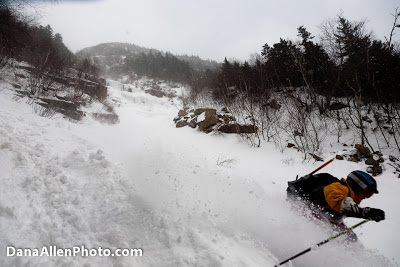 By Louise Lintilhac
A.K.A. Steezy Weezie