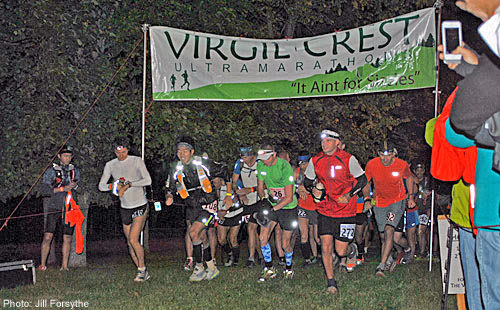 The Virgil Crest Ultra.  The Race Director labels the run as "Not a race for sissies!", I would totally agree.  With living only 5 miles from the race course, I have had the opportunity to train on the trails, the ski slopes, and really gauge my fitness.  Little did I know that all that training almost did not matter!  This course is just rugged-hard.  Not only is there tons of tough vertical ups and blinding down hill sections but the footing is what makes this race "not for sissies".  Every foot-plant I made, my foot was twisted through mud, roots that made me feet ache upon each strike, and narrow paths deep in the woods where a fall could be...fatal.
This race was TOUGH!  I never imagined how hard it would actually be but it was.
The 50 mile race was a great challenge and I am so glad I had enough guts to hold it together for a course record.