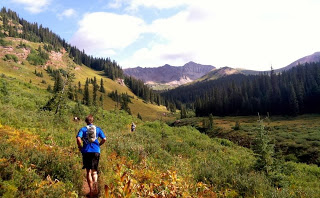 Running from Crested Butte to Aspen, CO on a late summer day
Photo © Doug Shepherd
It's been a hectic late summer and fall season so far.  First off, my wife and I moved from Los Alamos, NM to Denver, CO in August and I have been trying to take advantage of living at the base of the Colorado Rockies as much as possible.  The weekend after moving, I joined good friends for a 40ish mile run from Crested Butte to Aspen, CO.  We passed through some beautiful scenery and paid way too much for pizza and beer at the end of the day in Aspen.  The next week, my friend Phil Wortmann talked me into "running" Kiener's Route on Longs Peak, a classic mountaineering route that traces up the edge of the Diamond face.