Mammut offers a full tuition scholarship for an AMGA course or exam, and in 2009 I was the recipient of this scholarship. In my application for this scholarship I wrote about how working through the AMGA process and my climbing in preparation for courses and exams has changed my perspective on climbing, both personally and professionally. So when I was informed of my selection for the Mammut scholarship I decided this was an opportunity for me to continue down the path of new perspectives by taking a 6 week climbing trip to Europe.
After my work guiding in Alaska finished for the season we headed for Chamonix France, our base camp for the next six weeks. My goals for theses six weeks were; To climb some of the commonly guided routes in the Alps, and to do some challenging routes as well.
With these goals in mind we started out our first ten days by following around our friend Tim Connelly and his client as they did a custom Alps classics extravaganza. On day 1 we rode the Aiguille du Midi tram to its top, descended and climbed across the Vallee Blanche to do a super fun ridge climb on the Aiguille de Entreves.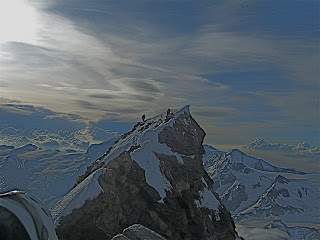 The following morning we headed for Zermatt and up the tram cars to the Hornli hut at the foot of the Matterhorn. Though not technically difficult, climbing the Hornli ridge was extremely educational. This is 4000 feet of 4th and 5th class climbing with a 100 or more people climbing it on a given day. The Majority of these folks are being guided so certain style of guiding using stanchions drilled into the rock for belaying and as protection has been employed to move all these people up and down the mountain safely and efficiently. Not only that, but it was a lot of fun.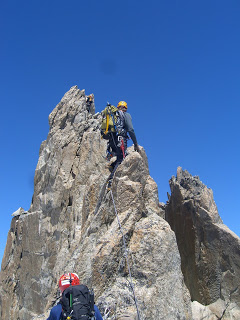 We had hoped to give the Mettelleggi ridge on the Eiger a go next, but the weather wasn't fully cooperating so we jumped in a car and headed to Italy for some sport climbing instead. We climbed a few different places but the most unique was our excursion on the Mirror de Argentine, where we did a nearly 2000 foot slab climb with some amazing view's of the Italian Alps.
Once the weather improved we returned to Chamonix and climbed the traverse route on Mont Blanc. This routes is a fun moderate snow climb that climbs and traverses below the summits of Mont Blanc du Tacul, Mount Modit and finally to the summit of the Matterhorn itself. After returning from the summit one must climb a half hour or so back up to the Aiguille du Midi, so on a challenge we decided to instead climb the Cosmiques arrete to the tram instead of the standard snow ridge. What a great way to end the day, climbing a very classic moderate rock ridge directly onto the observation deck of the Aiguille du Midi Tram.
The next week was spent exploring the rock routes on the peaks on the opposite side of the Valley from Mont Blanc. There is an amazing amount of climbable rock easily accessed by trams and chairlifts. We climbed the East Face of Brevent, the Tour des Croches, the Floria and Index to name a few.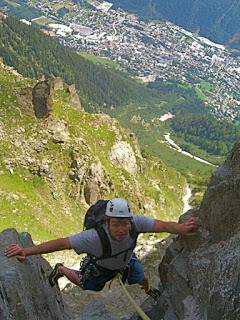 Wanting to experience as many different areas as possible we decided to check out the climbing around the Enveres hut. We took the Mer de Glace railway, and then followed the trail of ladders down the steep slabs, up the glacier to more ladders which led us to the Envers hut.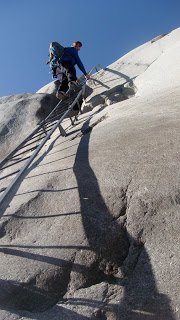 This area is full of long rock routes up beautiful granite, this photo was taken on a route called children of the sun.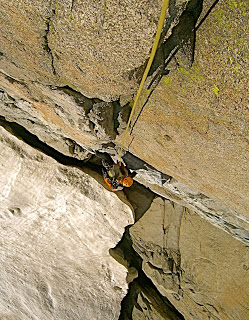 Our time in Europe was running out, so we decided it was time for some bigger routes and set our sites on the Walker Spur of the grand Jorasses. This is a classic route with some difficult climbing on rock, ice and mixed terrrain. we had a great time climbing as two teams of two. My friends Dylan Taylor and Tim Connelly were on one rope, and my wife Winslow were on a second rope. Conditions were great until it was time to bivy. Four of us shared a 3'x4' ledge hunkered down under two rescue tarps as a hail and lightening storm raged all around. We woke to white-out snowy conditions faced with a 9000' technical descent. What an adventure.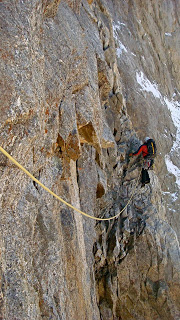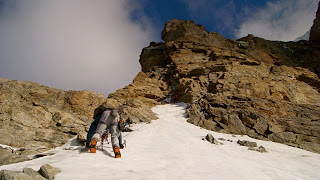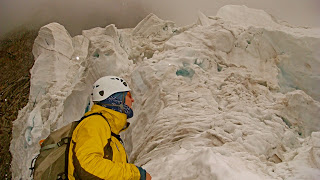 Two days later we concluded or trip with a climb of another classic the Gervasutti Pillar, another long rock, ice and mixed route on perfect golden granite.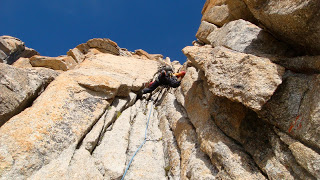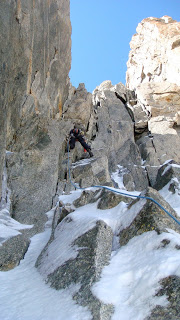 This trip prepered me very well for My AMGA Alpine Course, which I successfully completed making me an IFMGA aspirant. I thank Mammut very much for the support.
Todd Passey