The Moab area is one of my favorite places to climb anywhere. Terry and I traveled from NH to Utah to attend the AMGA's annual meeting. The meeting has technical and board meetings which work on issues such as access, member benefits, and guide education to name a few. There are plenty of fun events - the guide olympics - a variety of technical clinics - the silent gear auction and a desert requirement Jeff Unger and Andres Marin led an Offwidth Clinic. Guest speaker Jack Tackle had a great slide show on his ascents in Alaska and around the world. This years meeting was attended by many and next years should be even bigger as its scheduled to be in Boulder, Colorado.
There is always time to get out and enjoy the climbing. The first photos are of our climb of the Kor Ingals Route on Castleton Tower. The day started out warm and sunny then turned to cold and windy. Mammuts Microlayer Limited Edition Wind jacket and Outline Jacket provided us the needed wind break and kept us warm. These are two lightweight products that can be easily stowed in a small pack. I chose the 60meter Twilight 7.5mm Twin Ropes for this climb. This rope system is light, easier to use than the half ropes, and I had the benefit was of full length rappels. I recommend these ropes for a party of two on rock and ice routes with a technical descent.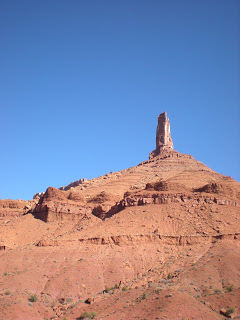 The other photos are of the amazing Indian Creek area. We spent a few days here climbing splitter cracks and varnished corners on the Scarface Wall and Battle of the Bulge Buttress. No where in the US are one pitch routes more gear intensive. Its all cams for protection. You may need six or more of one size to protect the longer classic lines. This trip was much to short but it renewed my desire to climb in the desert. I am starting my plans for a 2010 trip.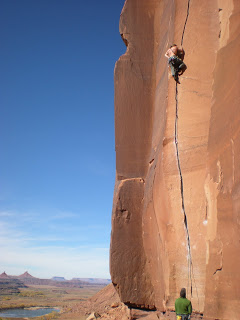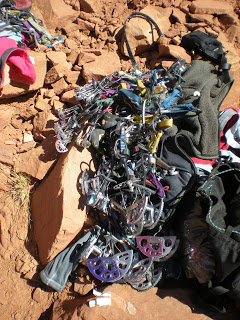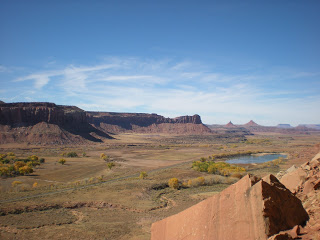 This may have been my last rock trip of the season. Cold and snow is on the way in NH. It could be time to sharpen up the crampons and ice tools.
Art Mooney