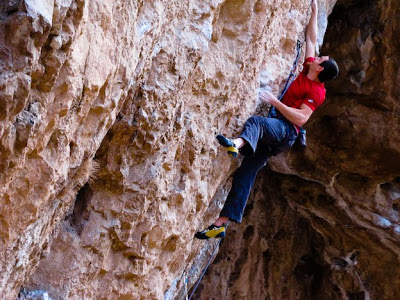 Sending "Hell Comes to Frogtown" 5.13d at the VRG
Last month I took a quick trip out to Utah to attend the Outdoor Retailer Trade Show, compete in the US Nationals rope/route climbing competition and get a week of sport climbing down in southern Utah in the hills around St George.
After helping set up the merchandise in the Mammut booth at the trade show I had a day to connect with old friends and wander the vortex that is OR.
Here is me with two old friends, new Mammut athlete and extreme himalayan climber/skiier Dave Watson on the left and Phil "the Legend" Schaal on the right in from of the mighty Mastadon booth.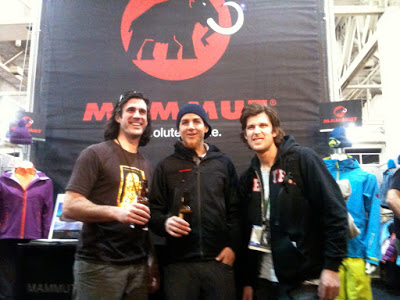 The next day I had a great lesson in humility when I fell off the intro slab moves of the first Qualifying route at the comp. I was standing there on good foot holds and I leaned back to look up at a volume hold that had other holds bolted onto it and...I basically tipped off backwards in slow motion grasping in desperation at the awful slopers that offered me no purchase to pull myself back on to the wall with. Anyway after getting absolutely no pump on the first qualifier, I did quite well on the second but ended up with basically no score on the first route and therefore one of the worst overall scores and no hope of making it anywhere near finals the next day. SOooo...I split for St George in the south western corner of Utah for some limestone rock climbing!! In the SUN!!!
I had a mildly productive 5 or 6 days of climbing, onsighted a 13a, flashed a 13b, redpointed a short 13d at the VRG in 3 goes and then came up short on sending the route pictured below, "Old World Lullaby" a Joe Kinder .14a at the appropriately named Black and Tan wall. This climb is about 60 feet long and sooooper sustained. Almost every move is like a V6 crux and after putting three days into it I came up short from the actual send and had to head back to SLC to catch my flight back to Vermont.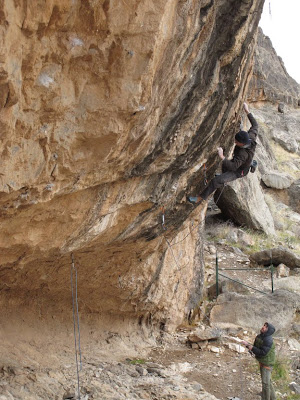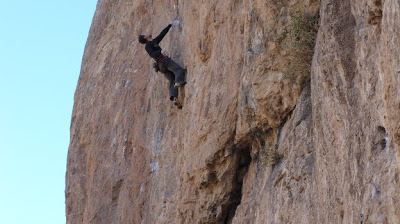 Giving a heartbreaking onsight attempt of "Joe Six Pack" a stout 13a at the Virgin River Gorge (aka VRG) a historic sport climbing area right on the border of AZ and UT. I fell off at the last bolt 100 feet up when I went the wrong way and got myself stuck crimping on a pebble and standing on a dime edge looking longingly down and right at the chalky jug rail that I had missed. I was far too pumped to reverse the moves I had just done so I stood there stupidly for ever, waiting to pump out completely instead of just letting go. Anyway an amazing route and a good onsighting lesson, I had kinda let my guard down assuming I was through all of the cruxes and was kinda just cruzing and therefore missed a crucial turn. NEVER let your guard down.
Keeping warm at the Black and Tan.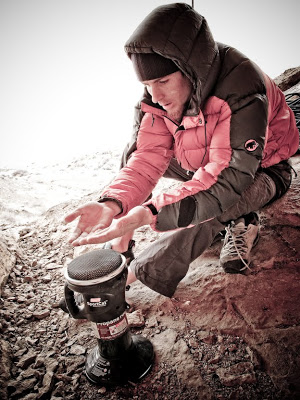 Thanks to Joe Kinder and Collette McInerney for taking most of these photos.
And to Jorge Visser for the awesome hospitality.
And as always to Mammmmmmmut for the continued support.
Psyched for spring in the northeast....its a comin'....I can taste it......
cheers
Peter Kamitses