Here in the northeast we are having a good old fashioned winter. The
snowpack
is deep, the ice is fat and the temperatures are always changing. This past week we had two storms and the temps went from 30f to -20f in a few days. This varied type of weather keeps me guessing. What clothing and gear should I bring for Mt Washington ascents, ski tours or ice climbs?
As a working guide I am out in the mountains over 20+ days each month. With this amount of climbing I require products that hold up and perform well. I am always looking for light weight items to keep my pack weight down. Many of the Mammut items I currently use are the lightest on the market but at the same time durable.
Mammut
Sports Group
offers a full assortment of products that range from technical garments, footwear, climbing hard and soft goods. All the
Mammut
products I use are light & strong while maintaining a high standard quality.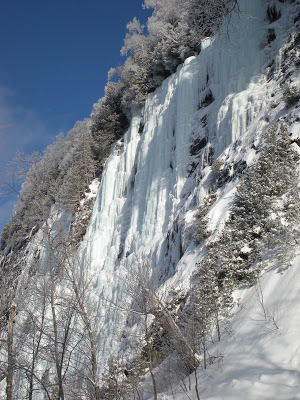 Lake
Willoughby
Vermont is the finest ice climbing area in New England. Lots of steep ice routes and at times very cold and windy.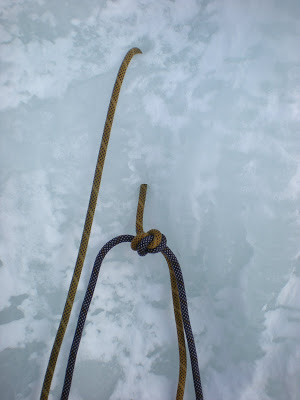 Mammut
Twilight Ropes
. These twin ropes are my choice for climbing with one person.
These ropes are durable and ultra light. The ropes have a Teflon Coating Finish to reduce friction within the fibers. You get a lighter stronger rope with very good handling.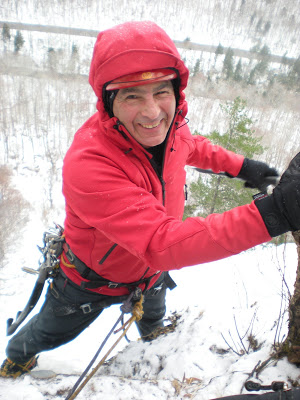 Aubrey and I have climbed together for years. Aubrey is a
Mammut
customer wearing his
Laser Jacket
, Baffin Harness and
Cerro
Gloves.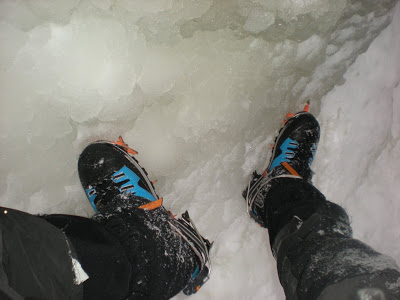 Last year I wore the
Mamook
GTX
Boot for many days during the ice season. The boots are great, very light with a good fit equals very good performance. My only comment would be the boots were not warm enough for the colder days during the New England winters.
Sure enough
Mammut
came out with a warmer boot the
Mamook
Thermo
. I have use this boot since December and have not had cold feet yet, the boot is light, the fit is good, and the boot is a top performer on steep ice routes.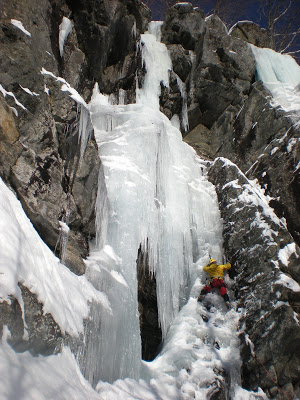 Rumney
is not just a sport area. The Geographic Factor is one of the prize ice lines on this south facing cliff. When the temps drop -
Rumney
is the place to go for some fine steep ice routes. There were a few devoted rock climbers sending routes at
Waimea
this same day.
For 145 years
Mammut
has designed fine quality alpine products.
Thanks very much to
Mammut
.
Art Mooney
UIAGM
/
AMGA
licensed guide