A snow storm made things interesting during a recent solo of "The
Englishman's
Route" in
RMNP
.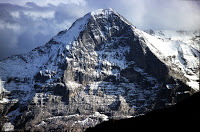 The
Eiger
North Face. The "1938 Route" follows a series of ramps and snow fields, beginning on the lower right portion of the wall, and ending on the upper left.
Tomorrow I leave for
Grindelwald
, Switzerland, which sits at the base of the
Eiger's
North Face. For the first week I will be working on Jeff Lowe's new movie (check it out here:
jefflowemovie
.com). Then I'm hoping for the right mix of weather and conditions to solo the Alps great North Faces--the
Eiger
, Matterhorn, and Grand
Jorasse
.
With that in mind, I've been spending my few weeks at home after Patagonia, doing lots of alpine mixed climbing in Rocky Mountain National Park. Getting out for good old fashioned spindrift suffer days with friends, and doing some solos as well. I've had some excellent days, with a highlight being the
probable
first winter solo of "The
Englishman's
Route" on
Hallet's
Peak. My father made the first ascent of this route on a summer road trip in 1958! It was quite an adventure; amazing how a 5.8 summer romp can be a different beast in winter! I used a mix of free soloing and rope soloing, breaking out the rope on two of eight pitches.
I'm incredibly excited for my upcoming adventures! I hope all of you have some great spring projects as well! I'll check back in, and let you know how it all turned out when I'm home in mid-April. Also, keep your eye out for feature articles on "The Wave Effect" (Our new Patagonia link-up that Whit wrote about earlier on this blog.) in upcoming issues of
Desnivel
and Rock and Ice Magazines. They should appear early this summer. Thanks again to
Mammut
for all of their support!