Here's to a fantastic fall season. Lots of office time and a busted up ankle slowed things down a bit this summer but September and October have been busy and Burlington seems to be in just the right spot to get around. Perfect days climbing on the fine schist of Vermont and New Hampshire, splitter cracks of the Adirondacks, and jug hullin' at Shagg Crag in Maine. Haha, and even some wet days in Quebec getting ready for the ice.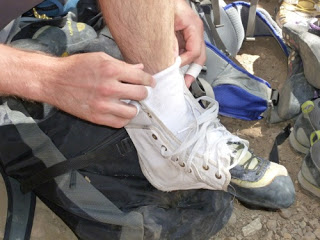 Summer 2012...Jones
Me, Ethan and Jeremy climbing a couple of my favorite Rumney Pitches
Flying Monkey 12c
Dynosoar 13a
New wind power from the Orange Crush ledge, Rumney, NH
Kate on Finger it out 10a Adirondacks, NY
The road to Shagg Crag, ME
Nice Tooth Link 13a
I made it out climbing with our East Coast Mammut Rep Tim Augustinowicz. Tim is a super guy, ex-rock n roll star who has a strong technical clothing background, but is new to the climbing side. We spent the day playing with the full Mammut arsenal on some local VT routes.
Tim getting after it, Boltsemite VT
A little Tool training in Quebec
Ergocentrique M9+
Beach Muscles on Hysterie M9-
Giant pumpkin head man. Scary.
Be well all! Josh Worley, Burlington VT