Steven lloyd
Summer has many opportunities to train for the winter. I myself have fallen in love with mountain biking. It emulates skiing as much as any sport can without snow being around. Your attention to the fall line is imperative. Picking your line and committing to it has kept me on edge and make me sharper going into the skiing season. The only down side is crashing on dirt. It is a lot less forgiving and hurts way more. But this creates the opportunity to be more focused and commit to what you are doing 100 percent and you have to leave doubt behind.
This summer I was able to visit some of the most unreal riding the US. has to offer. Thunder mountain Utah is one of the most aesthetically beautiful trails I have ever ridden. It offers a good amount of climbing and decent. The whole time you are moving in and out of red rock hoodoos that captivate the imagination.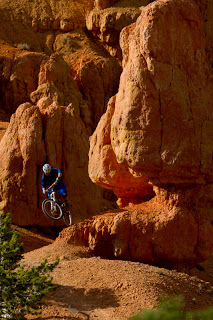 Aside from hitting the xc trails I have fallen in love with flying through the air on my bike. Dirt jumping and jump flow lines are such a great way to improve your air awareness and well, just feel like you are flying. Canyons resort in Utah has come along way with their freeride park and spending time there is a great way to hang with friends and be a part of the community.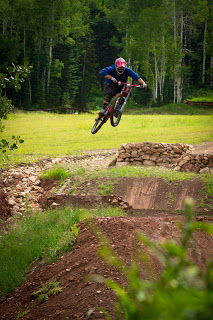 Getting hurt is a big part of the game but this summer I have been extremely lucky to have stayed healthy. Out of all the riding, jumping and hucking I have been relatively untouched besides the usual cut or bruise. I will miss shredding the dirt as we turn into winter, but look forward to shredding the powder.