This morning, I headed out to Hammond Hill State Forest for the Tom B trail run in honor of Tom Bugolosi, a great local trail runner who had sadly passed at the age of 32. Riding out to the race, I had those nerves I feel when I line-up for a big race. I was just so excited to race again after taking all of April off from any racing. I made it to the parking lot and had about 35-45 minutes to settle the nerves and to get out there and have a great time. I did a little warm-up and then just was hanging around getting ready to race. I hoped I would not get lost and that was of course my number one goal. I have a tendency to follow the natural trail and to make judgements to what I believe to be the most suitable trail while not glancing at markers which gets me lost. The weather felt nice but I knew it was going to be a little warm. I had all of my Mammut gear ready to go. I had my new Ultraspire Isomeric Pocket Handheld which felt so good and two Cliff shots.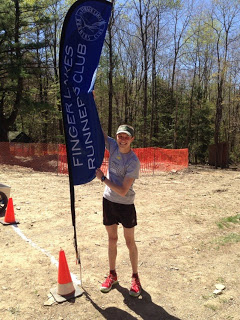 Hanging out at the Finish with the Mammut Gear and the Acidotic "School of Hard Rocks" shirt
THE RACE:
We lined up, heard the Race Director gives us some tips on how not to get lost and then off we went. The course began with a nice 800m climb to the trail sections on what seemed to be a nice seasonal access road...
I went out with the group up the first climb and naturally I noticed everyone kind of letting myself go. I thought, well I guess I am on my own, so I surged at the top of the hill and then looked for the sharp turn into the trail sections. I had found that the course was marked a lot better than what I was used to. There was chalk with two arrows in key turns and ribbons that really helped in terms of which path to take. If I followed the right directions I would be home free. As I entered the trail section, the sun was blazing through the trees. It was going to get warm. I slowly drank my NUUN to conserve a little and then ran pretty fast through the trail sections. It was nice to be able to actually run. Most trails I train on are very technical and force me to adjust my pace accordingly. I was probably running too fast the first 4-6 miles. I was probably running low 6 maybe 5:40s at some points. I was very anxious. From miles 6-8, I had slowed and adjusted my pace. I flowed through the lovely Upstate New York trails with leaves littering the trail and surprisingly enough, dry and hard-packed trails. I flew up the series of uphills and downhills biding my time and went through the various checkpoints with people hanging out on lawn-chairs and felt great. So far, I am on course I told myself, I can do this. My Mammut MTR 201's performed like true champs. I rolled over rocks, roots, gave me my great toe flex that the shoes by Mammut can do, and my MTR 71 shirt, MTR 71 shorts and my awesome Active visor really performed for me. It was a little warm on the trails and I could not get over the fact that my visor, shorts, or shirt ever had the sweat sitting on the fabric. For 16 miles, I was completely dry!
Miles 4-turn around (7.7 miles)-----I just kept moving through the nice trails which were wider than what I am used to more similar to an Oklahoma trail in that sense which allowed for me to RUN. I felt pretty good through the first half even with my frantic pace. It was only at the Finger Lakes Trail section where I started to lose a little in my energy reserves. I had hit a low point slightly and had to concentrate on the trail becoming only a small deer path winding through the woods. I slowed to probably 9 minute mile pace for this 1.5 mile section to make sure I would not make a wrong turn. I followed the blazes the best I could and for the most part, they were marked pretty well. Then the trail widened again and I flew on the downhills to the check-point turn-around 13k point. I was doing well with hydration maybe drank about 10 ounces but was getting tired. I came to the turn-around and felt that I should go for the 26k. I held the 2 fingers and off I went for round two.
ROUND 2--Second Loop---I wanted to walk that second uphill. My sugar levels were a little low and was tired from my early pace. I managed a steady pace up the climb then actually missed the turn into the trail sections. I saw big puddles on the road and realized that I had gone the wrong way. How much time did I miss with this little mistake? Probably not too much but maybe it could have made a difference in terms of a course record. The second loop passed on by a lot quicker than the first. I had seen the loop and knew what to expect. I went with a gel as soon as I hit the trail section and spent time ripping it with my teeth and then sucking down the goo. It would not click in until the final 2-3 miles.
I was feeling hot from the sun though I was extremely dry. Every aid station, I took some time pouring water on myself to cool myself off. Not totally being used to such warmth as it has been pretty mild here in New York until just recently. I felt like I was back in Oklahoma running on the trails on a hot spring day at Lake Thunderbird. Every creek that I saw I wanted to jump into but refrained. Was I still on pace for the course record? I knew I slowed down and just wanted to finish really. I probably was running a minute to 30 seconds a mile slower. I ran tough and come through the Finger Lakes section knowing I was home free. No one was going to catch me at this point which was a thought in the back of my mind and I knew I was almost done. The gel kicked in and I was flying up and down the hills once again. I passed a few people on the trail and then shot into the finish. I came out of the woods and used my momentum to sling-shot myself into a dead sprint. I crossed the line in 1 hour and 47 minutes which is best for 2nd or 3rd all-time for the Tom B course. It the weather was 10 degrees cooler, I think I would have been able to run a little quicker.
OVERALL RACE: It was a great day. I met some great people and had a blast running in all of my gear. I am so thankful to have such a wonderful job, family, and amazing sponsors who help motivate me and provide me all the support anyone could ever ask for. Mammut, Acidotic Racing, Karhu/Craft, Sierra Designs, Dion Snowshoes, and FLRTC and OK Runner have been more like a family rather than a sponsor. Thank you for all your help and support.
I missed the course record which is a bummer but that was never my intention for this race. I was just hopeful to run and to give myself a chance to race and test all of my Mammut gear. The result was sheer perfection. Mammut hands down makes some of the best shoes and gear around. Please check them out, they kick some major butt and I know everyone will know their name soon enough. Thank you Chris Dunn of Acidotic Racing for helping me get out there with my running and I already feel like I am family. It was a little hot for the buff but I did wear my gear for the post-race festivities! This race shows me that I am in great shape and that Cayuga Trails is going to be a blast. Bring on 50 miles! 50 miles is really a battle of 2 marathons, one more relaxed and the second ready to race. I hope I can run my best June 8th.
Gear used for the race: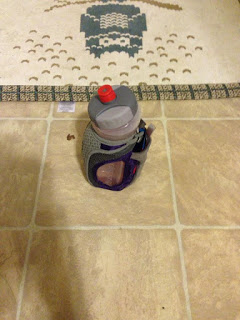 *Ultraspire 20z Isomeric Pocket
*2 Cliff Gels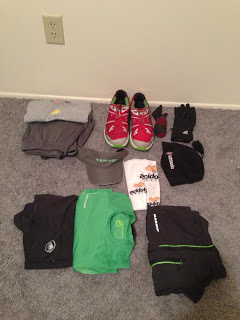 *Acidotic School of Hard Rocks Shirt
*Mammut MTR 141 Air Jacket
*Mammut MTR 71 Shorts
*Mammut Active Visor
*Acidotic Racing Head Buff
*Kahtoola Beanie
*Dynafit Gloves
*Merino Wool Socks
*Mammut MTR 201 Trail Shoe (Red)