This morning, I headed out to Hammond Hill State Forest for the Tom B trail run in honor of Tom Bugolosi, a great local trail runner who had sadly passed at the age of 32.  Riding out to the race, I had those nerves I feel when I line-up for a big race.  I was just so excited to race again after taking all of April off from any racing.  I made it to the parking lot and had about 35-45 minutes to settle the nerves and to get out there and have a great time.  I did a little warm-up and then just was hanging around getting ready to race. I hoped I would not get lost and that was of course my number one goal. I have a tendency to follow the natural trail and to make judgements to what  I believe to be the most suitable trail while not glancing at markers which gets me lost.   The weather felt nice but I knew it was going to be a little warm.  I had all of my Mammut gear ready to go.  I had my new Ultraspire Isomeric Pocket Handheld which felt so good and two Cliff shots.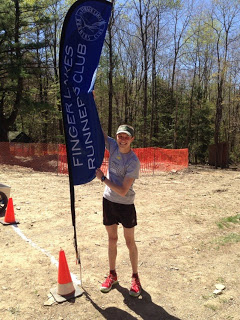 Hanging out at the Finish with the Mammut Gear and the Acidotic "School of Hard Rocks" shirt
THE RACE:
We lined up, heard the Race Director gives us some tips on how not to get lost and then off we went.  The course began with a nice 800m climb to the trail sections on what seemed to be a nice seasonal access road...