"Everything is training and nothing is training" - Josh Wharton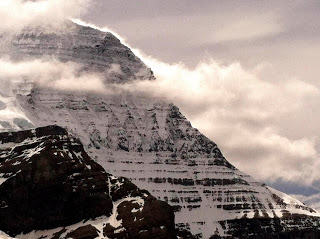 The Emperor Face, Mt Robson
©Doug Shepherd
Many peaks hold a mystical quality to me, steeped in climbing history, in stories of joy and sorrow. My friends and I have been extremely lucky to add our own stories to a few peaks around the world from Alaska to Patagonia, becoming part of the rich tapestry of climbing lore. Success or failure, while important to our egos, did not define our experiences in tracing out both the known and unknown. It is this idea that draws me to alpine climbing, knowing that our own particular experiences are both a unique exploration into our abilities as climbers and part of a larger narrative of both those that have come before and those that are yet to come.
The depth of experiences, mystery, and rich storytelling surrounding Mt. Robson have always set it apart in my mind. In particular, the Emperor Face stands alone beyond the veil, something shrouded in mist. As Barry Blanchard put it in his excellent Mt Robson mountain profile,
I imagine the summit in the light beyond the clouds. No other peaks rise through them, only Robson, because it's the highest in the Canadian Rockies and it's the King. Despite twenty-eight years of climbing and guiding this mountain, I don't feel I know it. Other Rockies giants like Mt. Alberta and Mt. Assiniboine, I can sculpt down to the smallest detail inside my head. But Robson defines the borders of my imaging. Here be dragons. Amid the waves, a freshly calved serac shines electric blue. Fallen ice becomes water; water rises to mist; mist ascends until it's caught in the hand of the Emperor Face, crystallizes into snow, and falls again on the Mist, the Berg and the Robson glaciers.




To march onto this mountain is to wade into the mists that rise from Berg Lake.

- Barry Blanchard (Alpinist 29)
The Emperor Face, towering 2500 m above Mist Lake, has only seen a handful of recorded ascents to the summit. Blanchard, Eric Dumerac, and Phillipe Pellet's route
Infinite Patience
accounts for at least three of these known ascents. The mist that Blanchard refers to is both symbolic and real, as the weather on the Emperor Face is notoriously poor and difficult to predict. We would come to experience this first-hand during our time on the face.
With a new job and move approaching, I was desperate to head into the mountains. The original plan was for John Frieh, Jess Roskelley, and myself to attempt a large route in Alaska in late May/early June. Between the warm temperatures in Alaska and an untimely injury to John's knees, Jess and I were left searching for an objective. I flippantly suggested the Emperor Face, knowing that my friend Josh Wharton had climbed it as part of his
Rockies' blitz the year before
, where he climbed
The Wild Thing
on Mt. Chephren with Chris Alstrin,
Infinite Patience
on Mt. Robson with Jon Walsh, and the
Greenwood/Locke
on Mt. Temple with Dylan Johnson and Mikey Shaefer. Josh's trip is one of the most impressive achievements by an American alpinist ever in my opinion, given the mastery of rock, snow, ice, and perhaps most importantly, logistics, required to climb these large Canadian Rockies' faces.
I call Josh to get some advice on the rack and descent for
Infinite Patience
and he tells me the descent down the South Face was "epic" and "kind of sketchy". Never something you want to hear from somebody you know is stronger than you. Nevertheless, Jess and I start checking the Robson forecasts and surprisingly they deliver with a predicted 1.5 days of good weather and then another day of decent weather. I fly to Spokane and we turn the wheels north, headed for our helicopter ride on Monday afternoon to save us the 25km walk.
Canadian Lynx near Howse Peak
©Doug Shepherd


The drive passes quickly and we are blessed to see a Canadian lynx near Howse Peak and Mt. Chephren, bringing back memories of my attempt on the
The Wild Thing
with Jed Brown the previous year. Doubting ourselves, Jed and I brought bivy gear on route, ignoring Josh's suggestion of pushing through the night. The next morning dawned warm, bringing wet slides at first light and causing us to leave most of our rack retreating the face. We barely made our flights home. I swore I would be stronger, go lighter, and learn from my mistakes on
The Wild Thing
. I drift back to the present as Jess talks non-stop about how cool it was the see a lynx. I'm already plotting what gear we can leave behind to move faster on Robson.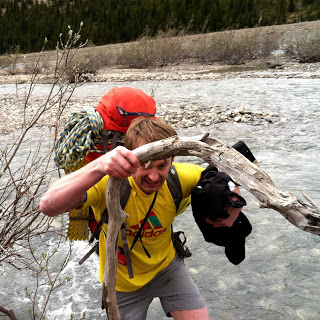 Jess crossing the river our way to Mist Lake
©Doug Shepherd
The helicopter ride passes smoothly and we are abruptly at Berg Lake staring at the Emperor Face. It's a huge, complex face that towers above the nearby terrain. I bury my fear by moving my feet towards the face, moving towards the experience instead of running from it. We have to ford a river to reach Mist Lake, our antics occupying the better part of an hour. We find a small boulder that has obviously been used by climbers before us and I wonder what they thought of the Emperor Face. From here, it's only possible to see the upper portion, swirling in and out of the mist. Blanchard's dragons seem real, lying in wait. Did those who came before us have the same sense of excitement and dread that I feel now? I can only hope to measure up to our predecessors, to leave my fear behind and commit to "just climbing". We snuggle in close under our one sleeping bag and the thought of how light we've gone comforts me.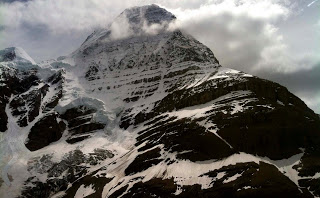 The Emperor Face from the helicopter ride
©Doug Shepherd
2 AM comes quickly and we are off. I remind myself to set an "all-day" pace, as I'm expecting us to be on the go for the next couple days. Despite the obvious line of
Infinite Patience
, Jess and I don't even need to discuss our plan. Why venture so deep into the unknown just to take comfort in the known? As we dispatch with the lower snow slopes and entrance rock band, we commit to finding our own way up the face. Once we are climbing, my thoughts, my fears, my doubt, it all disappears. What remains is the sheer joy of moving over mixed terrain in the mountains. The size of the face doesn't matter anymore and we rejoice in our fast movement over the lower snow slopes. Climbing is supposed to be fun and to remind ourselves, I pull out a small stuffed Travel Pig I bring along on climbs. The Travel Pig loves to travel, it's a simple idea. Just as we love climbing.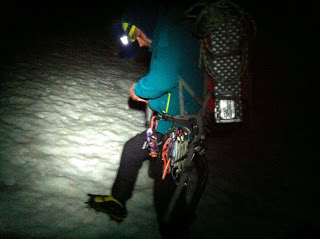 Jess leaving Mist Lake
©Doug Shepherd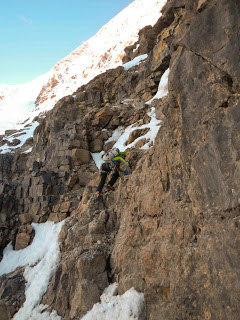 Myself fourth classing through the first rockband on the Emperor Face
©Jess Roskelley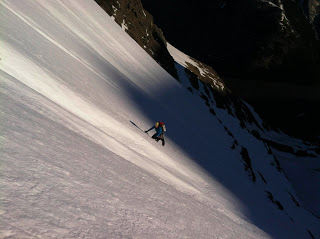 Jess soloing up the lower slopes of the Emperor Face
©Doug Shepherd
"It's too hot!"
We've hit a road-block. After 4 or 5 hours of movement, we stomp out a ledge to wait for the sun to disappear behind the face. The forecasted good weather is in fact too nice and the snow conditions have rapidly deteriorated. Jess and I rehydrate, eat, chat, nap, and play with Travel Pig while we wait for the snow to cool down. After a couple of hours, we are off again, into the gully system drawing us towards the upper face.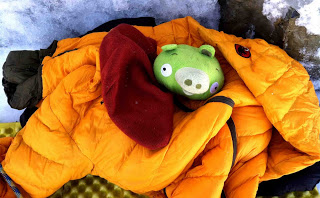 Travel Pig hanging out with us in the sun
©Doug Shepherd
Hours of continuous movement follow, with short sections of runout, difficult mixed climbing separated by long steps of moderate mixed and snow climbing. We rapidly gain height, simul-climbing as much as possible. We eventually have to start pitching out the mixed sections as they grow longer and trickier. Just before dark, I lead us through a set of engaging mixed pitches to gain a ridge crest and a perfect snow arete bivy.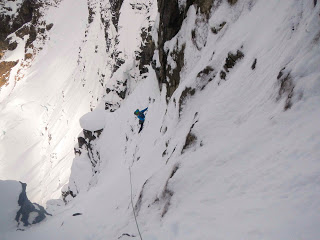 Myself following a pitch in the middle part of the face
©Jess Roskelley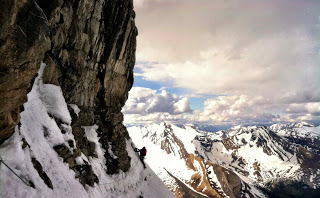 Jess traversing high on the Emperor Face
©Doug Shepherd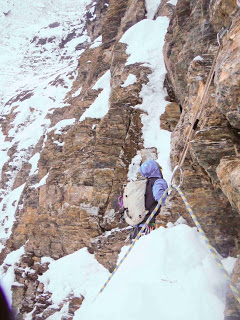 Myself leading the last pitch on our first day
©Jess Roskelley
The bivy site is amazing, allowing Jess and I to cuddle together under our one lightweight sleeping bag to stay warm. We both drift off to sleep after dinner, only to wake a few hours later to extremely wet and heavy snow. We proceed to battle all night with the weather, trying to keep ourselves dry during the storm. Eventually morning dawns and we are in the mist, hidden from the sun and the world. Delaying, we futilely attempt to dry out and eventually I lead off toward the barely visible Emperor Ridge. I'm positive we will be able to reach the ridge and either bail down it if the weather worsens or continue to the summit if it improves.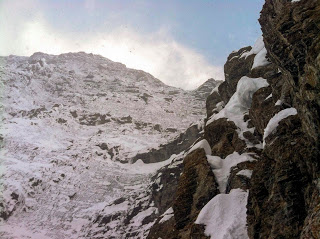 Our view of the upper Emperor Face before our first bivy
©Doug Shepherd
Mt. Robson and the Emperor are quite climbable. And they aren't. The mountain, at its most literal, turns into metaphor: "simply climbing." Transcendence and eternal return. Pattern and chaos. No matter how many times we slay them, the dragons revive.

- Barry Blanchard (Alpinist 29)
I can barely lift my head the spindrift is so heavy. Jess and I have pushed upwards to within a hundred meters of the Emperor Ridge, taking most of the day to climb this far. The snow returned with a vengeance, slowing us to a crawl on continuous pitches of delicate mixed climbing through shattered limestone. I'm mentally fried from leading all day and hang from a pin high above Jess while long debate ensues about bailing down the face. Down it is. I don't know if it's the right choice, but it's our choice, as we've reached the point where we want to go down more than up. The sun teases us as we dig for ice, for solid rock, for anything we trust. I hit the wall after a few rappels and trust Jess to guide us down in the fading light. Jess finally stops us to rest, despite my protests. I'm cold and want the comfort of continuous movement. During the darkest part of the night, Jess sleeps while I do countless jumping jacks between short naps. I wake Jess with the last of our coffee and a peanut butter cup at first light, eager to be off the face. The sun peaks through the mist, providing us vision but no warmth. We down climb.
Jess down-climbing the lower slopes of the Emperor Face
©Doug Shepherd


The rain begins as we stomp down the access couloir. Soaked, we leave our boots on to cross the river and start the 25km walk. It is mind-numbing work, raining on us for most of slog back to the car. Robson remains in the mist throughout the whole walk, teasing us with what could have been. What did we turn around from? What challenges remained between us and the summit? Pat Callis, a chemistry professor at Montana State University, and a hero of mine for his pioneering climbs and success in blending an academic life with a climbing life, summed up the draw of the unknown on Robson,
And if we climbed the Face? On that matter, we had no expectations of achievement or failure. We were aware only of the delicious suspense of unscripted adventure that hung in the air. And we savored it - calmly.

- Pat Callis (Alpinist 29)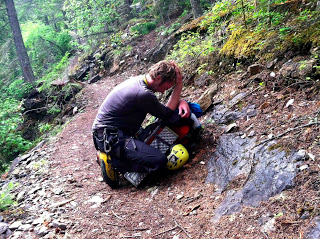 Jess about halfway through our walk out from Berg Lake.
©Doug Shepherd
Learning from our failures is part of life, not just climbing. Learning from my failure on the
The Wild Thing
a year ago, Jess and I went even lighter on Mt. Robson. I'm sure time will bring forward new lessons I learned on the Emperor Face, but for now I'm content with having pushed past my fears and my physical limits while still coming home. Going light on a big face is just plain fun, until it's not. Although, I've already blocked the hours of jumping jacks from of my memory and am excited for another chance to venture into the mist...
Doug Shepherd
Los Alamos, NM