Just wanted to do a quick product review of Mammut's Realization Climbing Shorts that are actually a pair of shorts with a harness, complete with waist belt and leg loops built right into the garment.
As a member of Mammuts Athlete team I have been using all manner of Mammut products for many years now and have always been impressed and reassured with the quality, durablity and functionality of all of it.
The Realization Shorts have been on the market for about a year now, and I must admit when I first heard about them I was a bit skeptical. But as I am curious by nature and they are new and different I finally got around to trying them out.
I have never been a big fan of too many bells and whistles and have always appreciated the construction of the lightest gear and the aesthetic of the cleanest lines in design, this product does both of those things. They are pared down to the simple basics you need for most cragging and gym climbing. Two plastic gear loops and two UIAA certified tie in points that serve both as the carabiner attatchment for belaying and rappeling as well as the rope tie in point.
The construction is solid and well fitting, I have about a 32inch waste and the medium size fits well.
I spent some time cragging in them this spring including some lengthy sessions projecting some sport routes hanging around for nearly an hour at a time. My first pleasant surprise was that this rig was definitlely a bit more comfortable than a traditional harness....I attributed this to two factors....
1. The tie in points seem to distribute the weight more evenly through out the internal leg loops and waist band better than traditional harness construction that seems to concentrate it at the back of the legs when hanging for extended periods.
2. The seat of the shorts seemed also to add some support that lessened the pressure on the traditional waist and leg areas.
The next thing I noticed was that it felt LESS like I was wearing a harness than usual. Especially on hot days. Instead of traditional leg loops which trap your clothes against your body and allow for little air movement through your sensitive zones, the Realization shorts leg loops sit comfortably underneath the fabric and allow for better air flow and keeps that band of sweat from forming on the back of your thighs.
While I probably wouldn't chose to hike in on the approach wearing them, I definitely was less inclined to take them off during an extended break in the middle of the day.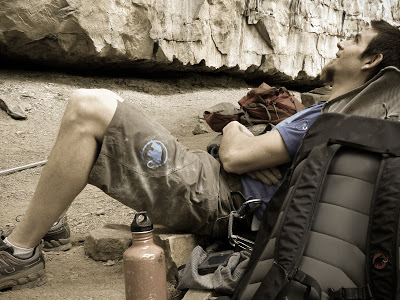 Another minor pleasing feature was that the pockets were actually useful! While wearing a traditional harness I have always found it slightly annoying that anything I put in my front pocket has to be finagled under my leg loop in order to get it all the way into the pocket, and often an even greater feat of finagling to get said thing out again. With these I could put a tiny role of tape, or some nail clippers or a food bar or my phone or whatever in my pocket and readily access it while my partner dangled from some high bolt on his project.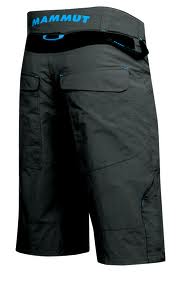 The back of the shorts have a black stretch nylon panel that allow for freedom of movement for every contortionist climbing move that you learned in your hot yoga class. They also don't ride up like a traditional harness can as they are fixed in place to the fabric of the shorts. There is an internal built in crotch liner like in a swimsuit, so you could comfortably go commando if you wanted to. I chose to wear underwear so as not to have to wash the rig right away. I haven't washed it yet but will probably just turn the liner inside out and hand wash that part of them in the sink unless the whole shorts get muddy of unusually dirty somehow in which case Mammut recommends regular machine washing like you would for a rope or other piece of climbing equipment.
So in summary, I think they have a useful place in my world for most of the climbing I do on a regular basis. I really enjoyed the comfort...while climbing, falling, hanging, standing or sitting around they ARE more enjoyable than a traditional harness....and...yeah... they look cool too... which never hurts....unless someone tries to jump you and steal them off your body....that could hurt ;)
Happy climbing
Cheers
Peter Kamitses
Burlington, VT
Taking my Realization Shorts for a run up "Ride the Lightning" 5.13c, New River Gorge, WV