After a springtime of climbing and guiding in Alaska/Denali and an enjoyable stint back in Mammut & my home-base state of Vermont, I arrived back in the Pacific Northwest this past week for a series of Rainier climbs with Rainier Mountaineering Incorporated (RMI). As chance would have it, my climb was slotted to be the first climb of the summer season—apparently though, nobody had shouted to the sky that it was about to be summer. Or, if they had, the sky wasn't listening.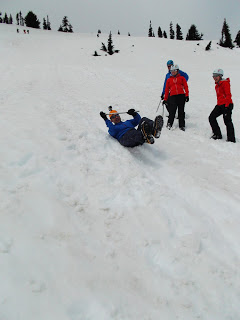 Practicing self-arrests during the training.
We gathered on June 20
th
for an orientation down in Ashford, under leaden skies and happy to be under the thick canvas of the RMI Base Camp Bar&Grill tents as we looked through gear and went over climbing logistics. The next day was a training trip up and around the "Paradise" area of Mount Rainier National Park (~6000') and it definitely took some gumption to leave the warm shuttle van and step out into the misty, puddled parking lot. But you can't win if you don't play and in the world of mountaineering—and particularly in the world of "Northwet" mountaineering—often times if you just give it a go, the weather'll clear and you'll be able to get after the objective you came for. Such was the case both on our school day and then on the summit climb June 22-23
rd
.
After a day of cats, dogs, and all other weather creatures during training, we cruised up the Muir Snowfield on the 22nd under a sweet sapphire blue sky, affording us views of Mt. St. Helens and a cloud-capped Mt. Adams. We also had a stellar view of Mt. Rainier's summit—which was good, because that'd be the last we'd see of it before standing on it the next day. Over the course of the afternoon the predicted low-pressure trough came in, "mares' tail" clouds began to form, and our brief summer appetizer came to an end. Back to spring...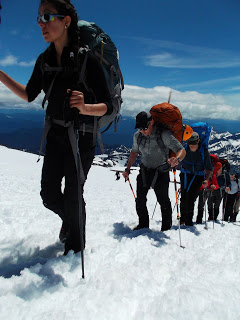 Cruising up to Camp Muir under blue skies.
Waking at 11:30pm that same night, we looked outside to see what fate awaited us. Things looked decent—much better than the milk bowl of no visibility mist I'd encountered when going to take a pee an hour or so before—so we roused the team and readied ourselves for whatever lay ahead. By 1:00am we were en route. The current route is an unusual one not climbed in about a decade, according to folks who've been here that long. For a complete route report, check out the report I posted on the Adventure Spirit Rock+Ice+Alpine website, but the long and the short of it is that instead of heading up from the top of Disappointment Cleaver it takes a hard turn toward Gibraltar Ledges, traveling over a knife-edge ice rib and scaling a few crevasse lips along the way.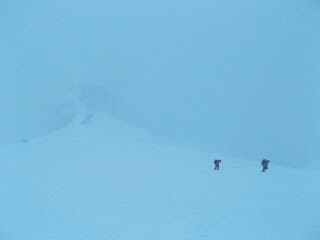 Less than stellar summertime weather above Gibraltar Ledges.
Conditions deteriorated the higher we went and by the time we hit the summit we knew it mainly because the ground leveled out. Though we were in the proverbial "golf ball" conditions, it was nonetheless a moment of great satisfaction for the entire team. Though the first climb of the summer hardly felt like summer climbing, and though the summit was less than warm and welcoming, the satisfaction of pushing through in the face of adversity carried with it its own reward.
Of worth to note is a few new pieces in my Rainier climbing kit. During this first summit climb I used the Mammut Skywalker 2 Helmet and Togir Slide Harness. For many of my early years in mountaineering and alpine climbing, I used harnesses marketed more for that purpose. And I always felt they were lacking. One popular model out there uses a double-back buckle system that is hard to operate with warm hands and impossible otherwise. Not to mention that no matter how oxygen-deprived your high-altitude mind is, you have to remember to run the waist strap through your belay loop before buckling it--or forget and then be forced to re-buckle it, with even colder fingers. No such problems with the Togir Slide—it's got a quick buckle system on the waist and adjustable, quick buckle leg loops that make it easy to put over boots even if they've got crampons on. Plus, it's got a low profile that fits well under a pack. True, it does weigh a few ounces more than most mountaineering specific harnesses, but the versatility and features of the Togr Slide make it a solid choice as a harness suitable for rock and alpine environments.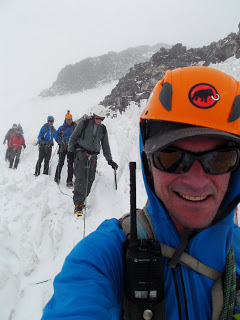 Descending the Cleaver under the safety of the Skywalker 2
The Skywalker 2 Helmet is also working out well on Rainier. Much as I love Rainier, it's a choss-pile: Whether we're talking ice blocks or lava chunks, Rainier constantly reminds unwary climbers with reminders that gravity still works. These are perfect places for hard shell plastic helmets. Though molded EPS ("polystyrene") helmets weigh a bit more that polystyrene varieties (the Skywalker 2 weighs 380g versus Mammut's 250g Rock Rider polystyrene option), they are much more resilient to impact from falling objects—a key feature during my Rainier climbs. The Skywalker 2 has a dial adjustment system that was quick and easy to tweak even with gloves on, as I transitioned between a ball cap and ski cap in the variable conditions. The chin strap has comfy padding and the carriage system is also quite comfy. All and all, this helmet is a durable, stylish, and versatile way to protect your noggin, whether at the crag or skirting crevasses at fourteen thousand feet.
Though my recent climb on Rainier didn't exactly prove the point, summer is indeed here. These long and sweet days are fleeting, so make it a priority to make the most of them and to take on fully all of the adventures that life presents. Onward & upward!