Well up here in Montana winter has come early and my autumn plans for rock climbing have been cut short. Very frustrating but as the saying goes..... "it is what it is". This got me thinking about my rock climbing trip to the Wind Rivers back in August. With the crummy weather a perfect opportunity to share.
Mount Hooker had been on my hit list for years. It has a massive north facing wall that rises 2000 feet off the valley floor. It has a long history that starts with the first ascent in 1964, making it Americas first wilderness Grade VI. It's a 15 mile approach to get to the wall so it requires a bit of logistics especially if you plan on spending some time. I planed for a two week trip with Josh Wharton and John Dickey. We hired an outfitter to pack our loads as far as they could. It was helpful but we still had to do a double carry from the drop site up and over Hailey Pass to set up for the week in our base camp.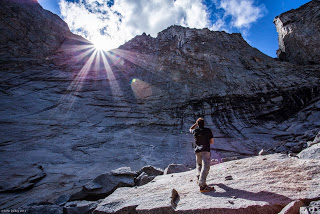 Recon on our first objective, a new route on this east facing wall off the shoulder of Mt. Hooker.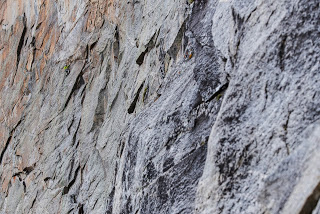 If you look close at this photo, I'm up there in my green Kala Patar Tech Jacket. The new route idea on this wall flopped when we ran into unprotected climbing. On this trip we were focused on free climbing, we weren't set up for aid climbing. So we bailed and focused on Mt Hookers north face, a route called The Jaded Lady.
After a few days of crap weather we left camp at 5 am and made the one hour approach to the base of the wall and started climbing at first light. This wall has a history of being extremely cold, in fact it's really the only good info that you can rely on when it comes to researching Mt. Hooker. Josh and I dressed warm anticipating the cold. We must have been lucky to have had manageable temperatures all day. The Broad Peak Hoody was an awesome piece to have as a super light belay coat. I never got cold.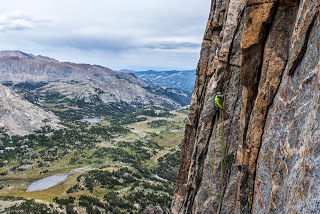 The climbing was unbelievably good offering some of the most interesting and varied alpine climbing I have ever done. John Dickey rappelled in from the summit to shoot photos of us as we closed in on the top third of the route. The photo above: me belaying Josh at a hanging belay about 400 feet from the summit.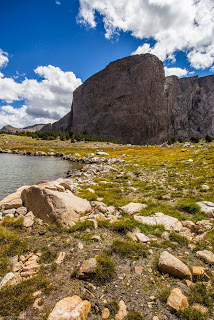 We ended up making the first, one day, free ascent of Mount Hooker in 10 hours via a route called Jaded Lady VI 5.12. Let it go down as one of my top five favorite rock climbs ever. The route is generally well protected except for a handful of old bolts that desperately need replacement. We used a twin rope set up of a Serenity 8.9 and a Twilight 7.5. It gave us single line options as well as a twin rope option in a very light weight package.
Once at the summit you don't even need the ropes you simply walk off the mountain. That adds bonus points for this amazing wall. Above photo: the north face of Mt Hooker as seen from Baptiste Lake.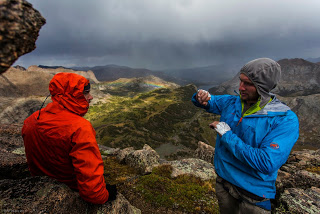 At the summit of Mt Hooker discussing all the important details, play by play from the days climbing. Thankfully the rain came right as we topped out and not before. Once it cleared we had a beautiful rainbow arch across the valley below us. After an amazing wilderness climbing experience like that one it's hard to top, but I'll keep trying, that's the labor of love for the sport.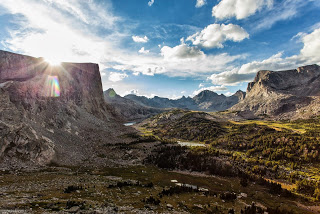 In closing thank you Mammut for the support. A huge thanks to John Dickey for these Pictures. He is a very talented big wall photographer, it was a pleasure to hang with him. Also to Josh for putting together one of the most insanely good back country menus I have ever been a part of. I think I actually gained weight. One last shout out to another team of climbers: David Allfrey, Mason Earle, and Nik Berry who opened up a new route on Mt. Hookers North face. Well done.
Whit Magro
Bozeman, MT