Well up here in Montana winter has come early and my autumn plans for rock climbing have been cut short.  Very frustrating but as the saying goes..... "it is what it is".  This got me thinking about my rock climbing trip to the Wind Rivers back in August.  With the crummy weather a perfect opportunity to share.
Mount Hooker had been on my hit list for years.  It has a massive north facing wall that rises 2000 feet off the valley floor.  It has a long history that starts with the first ascent in 1964, making it Americas first wilderness Grade VI.   It's a 15 mile approach to get to the wall so it requires a bit of logistics especially if you plan on spending some time.  I planed for a two week trip with Josh Wharton and John Dickey. We hired an outfitter to pack our loads as far as they could.  It was helpful but we still had to do a double carry from the drop site up and over Hailey Pass to set up for the week in our base camp.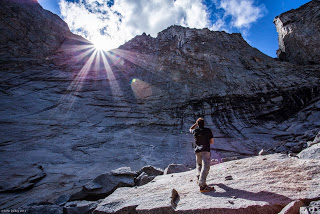 Recon on our first objective, a new route on this east facing wall off the shoulder of Mt. Hooker.