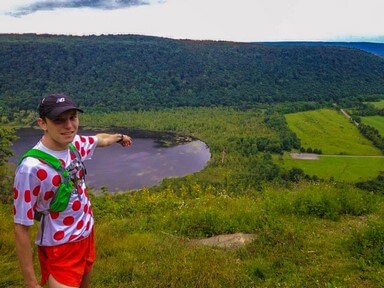 Gotta love the polka-dot shirt! and Mammut MTR pack
After a few weeks since my Wildcat Romp 50k, I have been starting solid training again and really feeling like the Cole I knew last fall. I had chosen this race because I was looking for something that would be a late summer race and get myself a race test before my big races this fall. I always like to have my most critical races scheduled for the fall as cooler weather seems to suit me well.
I had the interest in running an ultra in NJ, my home state to see how that would go. Well, here is the story.
While my lovely girlfriend, Ashlee was out visiting family in Oklahoma for 2 weeks, my father and I hung out in Cortland and then loaded up his van and headed for NJ
The race was being held in Rockaway, NJ and I was intrigued by the NJ Trail Series group and their various running events. So we made the trip to Rockaway and I napped a lot the morning of the race to get in all the sleep I could muster for a fun 50k. I originally had my sights set on the 50 mile but with my weak ankle, it just was not in the cards. As soon as we arrived at the school where the race would begin, we unloaded the van and I of course went to one of the neighboring port-o-potties. I found what I was looking for and proceeded to get ready to run well. Everyone kept talking about how the course was really rocky and technical and I laughed thinking that any NJ trail would not be that crazy.
WELL…..I was wrong. I thought that I could easily pull-off a low or sub 4 hour time on this course which is what I can normally run on a normal course. This course was very much a slow course. I was greeted with rocks and boulder fields, and nice ups and downs and course markings that got me and another runner lost multiple times.
To put it nicely, it was an interesting time.
So from the gun we are off. We are running up this scree field in the middle of the woods and I shoot ahead as I feel that my running credentials should in fact allow for me to perform well. Of course after a mile into the race, I make a wrong turn and then have to play a little catch up.
My Mammut MTR 201 Pro Low shoes helped give me the grip and maneuverability I was looking for. I got back on track and then ran with two other gentlemen as we headed up the rock-laden path having to hop around like little ballerinas. I felt relaxed and comfortable and wanted to run the first 10 miles relaxed then open it up for the win the next two loops of the 10.3 mile course. I also had the intention of checking out the course as well. So, I sat back and then on a nice downhill section asserted the lead. I thought… (OK) I got this. Then the real technical sections began. I was slowed to 10+ minute pace watching my foot falls as I negotiated the terrain as we climbed up. I could see behind me that there was a runner gaining on me and knew he might challenge me but his test of endurance would be what I would question. My ankle was hanging in there but I was concentrating so hard not to roll the ankle. After the first big climb to a scenic overlook, then about a mile of gravel road straight down gave me the chance to fly downhill and make up some time. I felt still nice and relaxed. The runner behind me soon began to gain on me again as I negotiated the rocky terrain.
It was not until the boulder fields where I let him pass, as my guess was that I could catch up on the runnable sections. The boulder fields reminded me a little like the Catskills yet these rocks were smooth boulders the size of cars you had to hop from place to place on. The course markings led me off over a ridge and soon I missed the solo pink flag that tells you where to go. I was lost. I back-tracked and maybe lost like 3 minutes and found the next runner behind us. He asked me if I was lost and I told him "Yes". We linked up and proceeded through the most-technical portion of the course. We went over some ragging creeks with more boulders then came to a slight rocky flat road where I opened up my stride.
We came out by the dam and went up a nice hill. Then, the markings suddenly disappeared. The issue here was that the course markings had to have been old one from last year. So we wandered around going up and down and back and forth along the dam which was under extensive construction. This gentleman had run the course last year and could not believe we missed the turn. After running around back on the trail the way we came, I mentioned we had to turn-around and head back looking for the markings. And after 10-15 minutes later, the markings motioned across the water causeway under an arch over a spewing drainage pipe. It was an odd detour but we soon got back on track and knowing no fast times would really come today.
We talked about the race and living in New Jersey and picked up the pace which was nice. We handled some more rocks but overall, the second part of the course was much more runnable and we could really pick it up to a more standard pace I usually go at during a 50k.
We hit a neighborhood section on road and I opened that up like crazy and then waited for my compadre to come down since I did not want to get lost only 600m from the turn around. We came to the last section and he pulled his calf and had to drop out. I proceeded to the turn-around---Lap 2.
Lap 1: Time was near 1:35
Lap 2: I knew the course and was able to execute my race plan and pick up the pace yet the course made it difficult to really run hard. If I can run under 1:30, I would be pleased. I took the technical sections easy and ran any section I could as best as I could. Pretty simple.
(Sponsor plug): I had a Vanilla Orange Carboom gel and man it tasted GOOD. I love Carboom because the gels go down easy and best of all, they are packed with so much delicious flavor. You cannot even compare how good these gels taste!
Photo Credits: Boom Nutrtion.com
After feeling the rush of energy, I was able to run faster than expected. Still no #1 runner in sight but I felt that I could be gaining and that it could be only a matter of time. I went through Lap 2 unfazed and hit the turnaround being told I had closed the gap of 15 minutes to a mere 5-6 minutes in 10 miles. I closed out lap 2 near a 1:22 split. I was a mile down and at this point, I knew he would have to drop or blow-up for me to win. I decided second place with a laboring ankle on a unrunable course really was not bad. Sure it was not going to be a 3:50 but on a course like today, with the heat beginning to rise, I would take it.
Lap 3: I took my time, and kept a 1:30 pace through the course. I walked the technical boulder sections as my body would fatigue, I would take a gel to revitalize myself and of course drink from my handheld. I felt better on the second half of the loop but of course still had to take it easy because of the terrain.
I hammered the road section and the last downhill and sprinted out of the woods at 5k race pace to the finish. I finished around 4:38 about an hour off of what I would hope out of a 50k but with the rugged rocks and going off-course, on a perfect day, I might be able to run sub 4:20 but that would be EPIC on the technicality of the course.
Myself at the Finish
Mammut
MTR 201 Pro Lows performed great as well as my Mammut apparel kept me cool under the heat of NJ.
Fits socks
of course always keep my feet blister-free, padded and comfortable for my long events.
Craft
shielded my head from the sun with a great technical visor.
Karhu
has some of the best kick-around and training shoes for the roads out there. My go-to road shoe.
Redfeather Snowshoes
who make some of the best snowshoes around and excited to be representing the feather this season.
Carboom!
Energy Gels---Packed full of real fruit flavor that allows for you to get the most out of the gel, great flavors, and a gel consistency that is smooth like the Grey Goose Vodka of energy gels!
Acidotic Racing
--Representing one of the best club teams around!
My ankle
had survived and a few weeks after the event, I feel like my old-self again!
It was a fun race and a great comeback race for me on a technical course.
Sure I was second place to a runner who put himself out there to win but I felt great that I almost reeled-him in after losing so much time getting off-course.
So far this year has been a huge learning-curve for me dealing with injury and about finding ways to get healthy again. I have not been anywhere close to racing to my potential and I have to remain smart as I have a healthy slate of PRIME RACES THIS FALL:
First begins the Virgil Crest Ultra 50k
I am excited to run the 50k course rather than the 50 mile this year and I hope to run a super-fast course-record time.
I am eager to maybe run the Tussey Mountainback 50 but am still debating on an October race.
My main "A" race is focused on the JFK 50 where I hope to shock some people this year in the event.
Mammut Zip Shirt, Acidotic Racing Pin, Craft Visor
Link to the Race Site:
Race Results of the Wildcat Romp:
These have been the photos from the weeks leading up to the Wildcat Romp as well as the two weeks after the race.
Nice view from the Top of Greek Peak-2k in elevation
The Hanglider's spot
Greek Peak lodge
Having a great hike with Ashlee