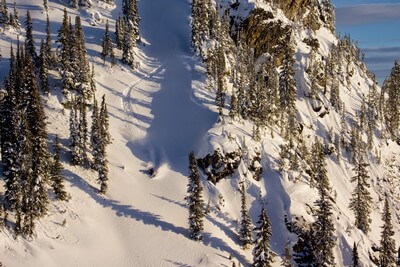 Holly Walker shreds down the fluffy cold smoke.
Photo by Hans Christian Gulsvik
It was deep, too deep. The fluffiness was up to my waist and after five minutes I didn't have the energy to go on. Mike Ship laughed at me while he pushed ahead, moving at a slow pace but breaking the trail. We skinned across the deep open flats with over 60cm of fresh snow and continued up 'Merlot' hill through the trees. The avalanche risk was high due to the ongoing storms and as we continued to ascend in the dense old growth spruce trees, we witnessed a size 2 slab avalanche on the open slope of the mountain across named 'Shiraz'.
After skiing the first run through the trees and choking on the pow as it exploded in my face, I was too tired to continue. I had been skinning and skiing the deep snow for eight days straight and it was still only December 2nd. The invite had come from Steve Shannon ten days earlier and I was looking for any reason to leave the rocky, snow lacking Coast Mountains. The Monashee Mountains of the Columbia Range boasted a 140cm base and Sol Mountain Lodge's opening day of its 10th season was scheduled for December 1st, 2013. With Steve's invite, I would be flying in by helicopter for an exclusive pre-season pow-filled week…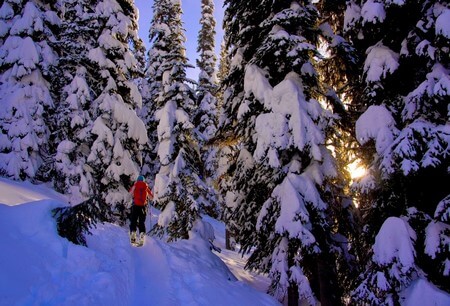 Holly Walker ski tours out to Zone 3 at Sol Mountain Lodge in the Monashee Mountains.
Photo by Hans Christian Gulsvik
As Mike and I skinned back to Sol Mountain Lodge, Steve and other friends were finally loading up the helicopter to fly home - a day late due to inclement weather. We had spent the week skiing pillow lines on Mount Baldur and ski touring to the summit of Sol Mountain in Zones 1 and 3. Steve, Carly, Rory and Darryl now all had jobs and other obligations awaiting them back in Revelstoke. My new friend Mike and I had no plans, just another week to continue skiing and exploring the 30,000 acre tenure, eat delicious home cooked meals and relax in the wood-stove heated sauna.
Sol Mountain Lodge was founded in 2004 by ski guide Aaron Cooperman and B.C. woodsman Dave Flear. Every morning, while sipping coffee, I bugged Aaron for advice on which zones to check out. His descriptions were endless…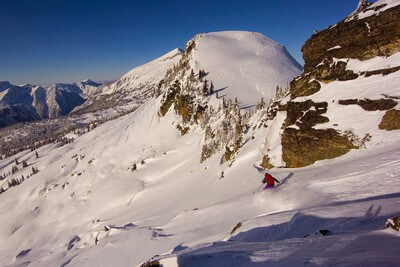 Holly Walker skis down a face in Monashee Mountains, British Columbia.
Photo by Hans Christian Gulsvik
As Steve and crew flew out, more of Mike's and my friends flew in for the first official week of Sol Mountain's backcountry ski lodge. Photographer Hans Christian Gulsvik from Norway, and Zebulon Blais and Aaron Finley from Lake Tahoe, had arrived to the Revelstoke two days earlier and were jonesing, jonesing hard for pow. They had not seen so much snow in over two years, let alone at the beginning of December.
Zeb scopes lines over breakfast.
Photo by Hans Christian Gulsvik
The sun rose at 7:02 a.m. the next morning and Zeb and Aaron had already eaten breakfast and were ready to put on their skis. An arctic front had crept into the Monashee Provincial Park, bringing -30 degree Celcius temperatures and a clear sky. Hans and I joined the other two and we headed further out to Zones 4 and 5; avoiding the cold, crisp shade of north-facing slopes.
With the sun setting, we felt content with our pow-filled day and frozen faces and began to dream of the toasty lodge and warm fireplace. With only 14 other guests and even more tenure to continue exploring, I now understood Aaron's advice… the options for untracked pow were truly endless.
For more details about booking a guided or self-guided trip,
Zebulon Blais ski tours back to Sol Mountain Lodge in time for après-ski by the warm fire.
Photo by Hans Christian Gulsvik
Skier and writer Holly Walker lives in Whistler when she is not traveling in search of perfect pow.