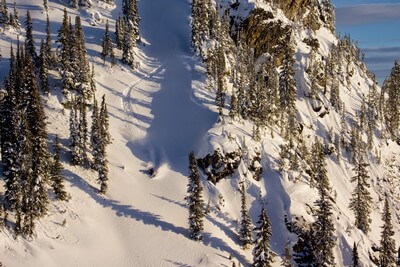 Holly Walker shreds down the fluffy cold smoke.
Photo by Hans Christian Gulsvik 
It was deep, too deep. The fluffiness was up to my waist and after five minutes I didn't have the energy to go on. Mike Ship laughed at me while he pushed ahead, moving at a slow pace but breaking the trail. We skinned across the deep open flats with over 60cm of fresh snow and continued up 'Merlot' hill through the trees. The avalanche risk was high due to the ongoing storms and as we continued to ascend in the dense old growth spruce trees, we witnessed a size 2 slab avalanche on the open slope of the mountain across named 'Shiraz'.