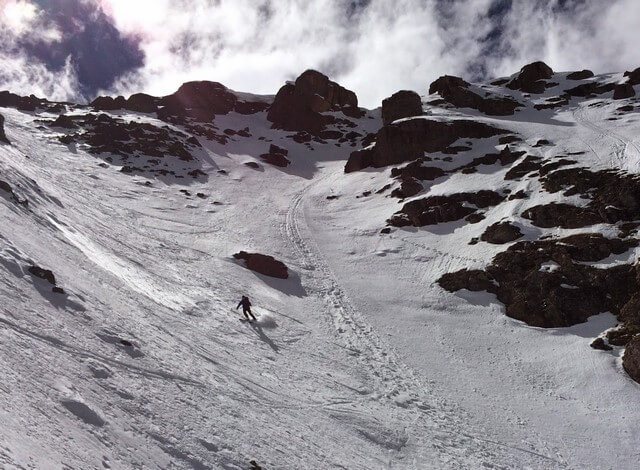 Scenes from the San Juan Mountains, site of the AMGA Ski Guide Course.
Heading to Ouray without ice tools in my bag stung like sharp shards coming off a misplaced swing on a bulletproof day. The wealth of ice climbing opportunities that this area of Colorado's North San Juan Mountain Range offers is well-known. Less well known—and as I would soon discover—is that the ski mountaineering options offered in the North San Juans is on par with the ice. I was headed out to explore those options, by way of the American Mountain Guides Association (AMGA) Ski Guide Course (SGC). Having completed both the Alpine and Rock Guide certification programs a few years ago, I was interested in exploring the Ski Guide program with a eye toward International Federation of Mountain Guides Associations (IFMGA) certification (you must complete all three tracks for IFMGA certification), but approached it with a keener focus on keeping my learning edges sharp.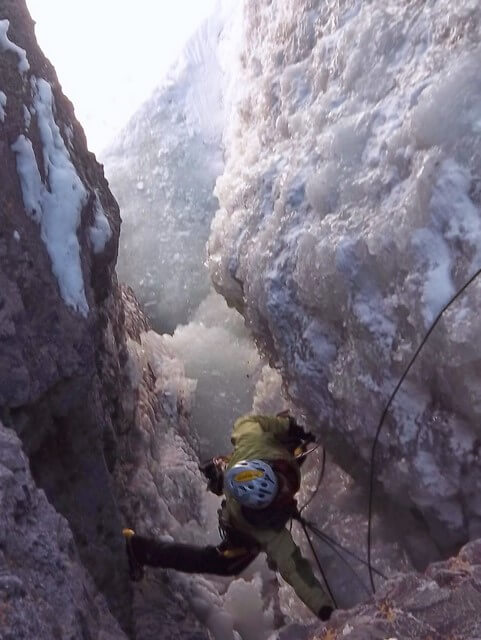 This is what previous trips to Ouray looked like.
As a climbing guide and instructor, I frequently ask others to challenge themselves with new material in physically and psychologically strenuous situations. So as to keep in tune with them, it's imperative that I have that similar experiences from time to time. In recent times I've explored new terrain ranging from mushroom foraging (OK, not physically or psychologically strenuous if you do it right, but if you do it wrong...) to sky-diving. Understanding how I respond and react as a learner in high-stakes environments, I have a better pulse on my participants: For example, laughter might mean they're having a great time, but it also might mean they're scared shitless—I laughed my whole way through the sky-diving. I was having a great time scared shitless.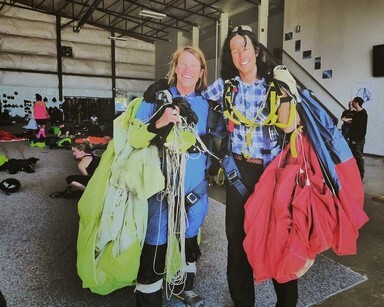 That's me on the smiling on the left, post-skydive, post scared sh*tless.
Looking to hone the learning edge, I signed up for the Ski Guide Course in the early winter. I couldn't have picked a better season to prepare for it in the Northeast. Things were a bit slow to start, however. After pulling the plug on a planned trip to Pemberton in early December, amidst reports of bare ground up to the hut we intended to base out of, we did some last minute research and discovered that our "Neighbor to the North"—Quebec—had the best snow pack on the continent at that point, way up in the Gaspe Peninsula. Unfortunately, just as we headed north, we read an avi forecast update: It warned against staying off of slopes over 20 degrees. Normally, that's a sign of a big snow dump that will eventually stabilize and yield great tracks, but the warning this time was because a recent warm trend had come to an end and the slicked up slopes were so bulletproof that a slide on them could be as fatal as being buried in an avalanche. If we were going to deal with ice, we wanted the steep variety, so we detoured to Cannon Cliff in New Hampshire for some climbing, stalling for the predicted snow later in the week. It came, but not in abundance, so after a few days of mediocre touring that was enough for this inveterate ice climber to cut and run for the Gaspe Peninsula's coast, where we'd seen numerous impressive drips on the drive up.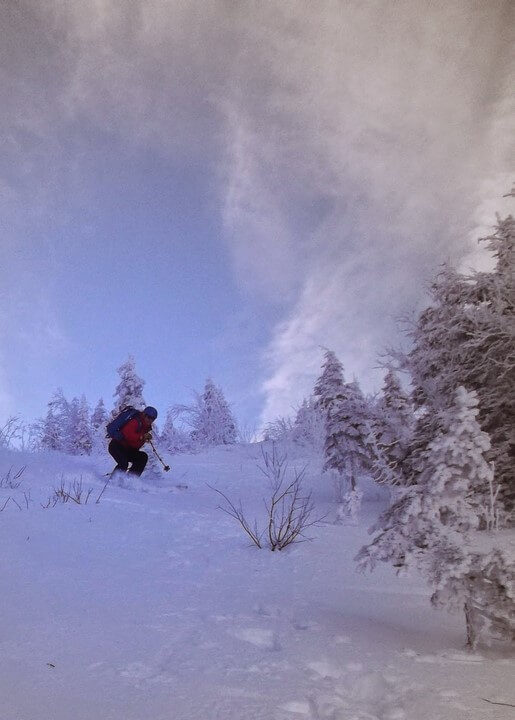 Finding some sweet early-season turns up in Quebec's Gaspe Peninsula.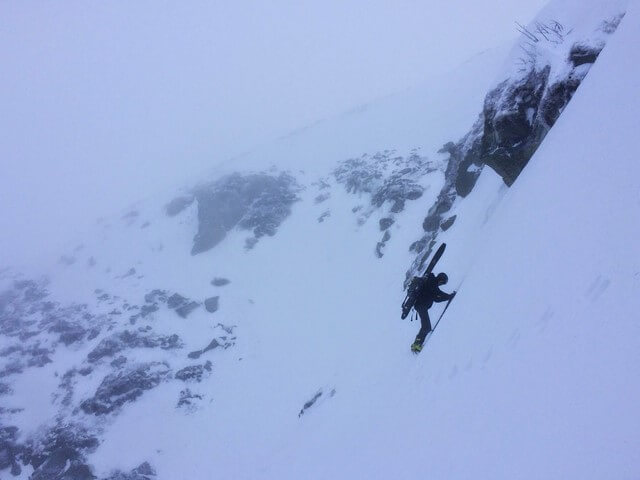 Training in Tuckerman Ravine.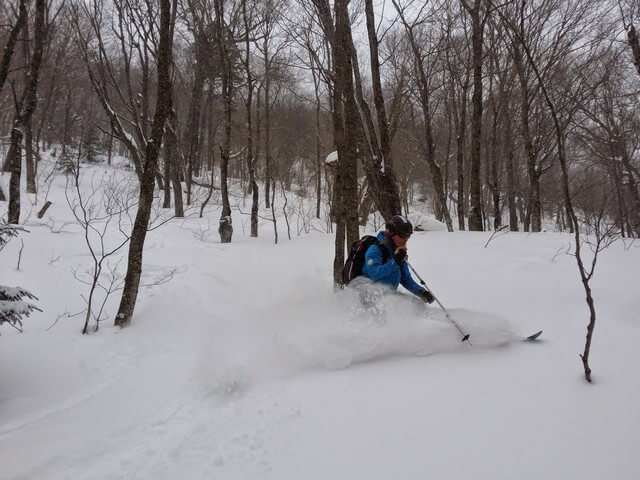 By late season, conditions were rich in Vermont.
Snow came into the Northeast as an abundant gift, if late, right after the holidays, and it became easier and more and more attractive to holster the ice tools and put time on the boards. By the time March rolled around, I felt ready for the Ski Guide Course out in Ouray. That said, it felt a bit absurd to be packing my bags to leave to ski elsewhere: The snow pack out in the Northeast was fat as a polar bear in late summer and reports on the spring San Juan snow pack sounded as thin as that same polar bear rounding the bend of a hard winter. A major storm rolled in the week before my departure, making it seem like a more reasonable idea to head to Ouray to go skiing. But, as I checked in at the airport I still couldn't overlook a nagging feeling I was forgetting something...my boarding passes said I was going to Ouray, but I had left the ice tools at home?
Arriving in Ouray took that nag off my back. Looking to check out the terrain for the course, stretch the legs, and stretch the lungs, I went out for a first-day tour. The expanse was astounding. Myriad continents of skiing presenting themselves on every horizon, universes beyond universes to explore. While at the airport the day before my mind might have been like that of an anxious parent, fearing to leave my little Nomic loved ones behind, I knew now that my ice tools would take care of themselves just fine back in the Northeast—and in the meantime I was going to have a rip roaring good time!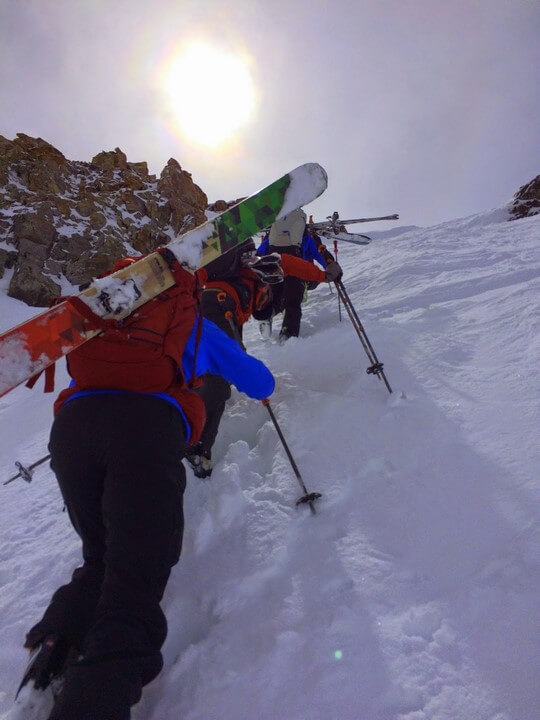 Booting up a couloir behind Ryan Huetter, recipient of the AMGA Mammut Scholarship for the Ski Guide Course.
A good time for me usually involves equal measures of learning lots, challenging myself, aesthetic pleasure, and interesting people with which to share the experience. The Ski Guide Course delivered. Early in the week, snow pack instabilities added a lot of valuable critical analysis and risk assessment to tour planning; later on, things stabilized, allowing access to the psychological and physical challenges of steep terrain. Our crew got into the flow of morning guides' meetings, followed by vigorous touring and track-setting decisions, streaming into strategic down-guiding, wrapped up with end-of-day post trip assessments about the decisions made and outcomes resulting.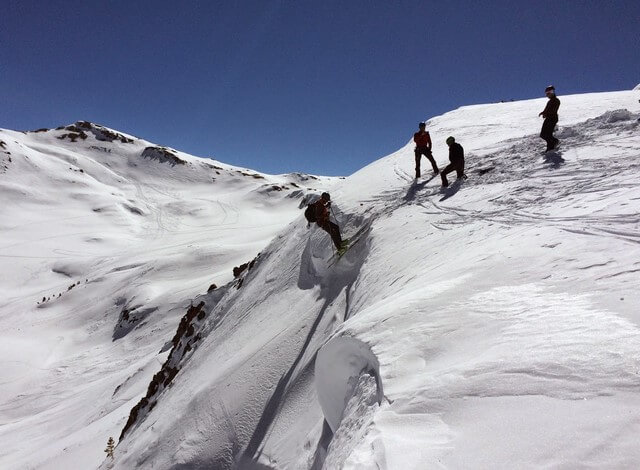 Practicing technical lowers and belayed skiing.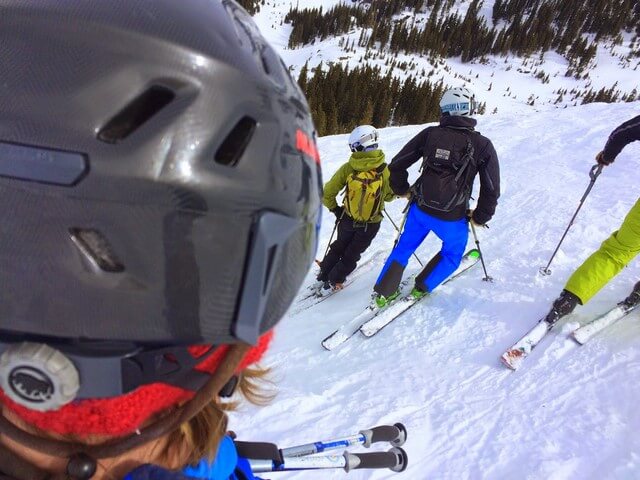 Gettin' set to drop in!
Outdoor education is a scion of the field of experiential education, a field most famously advanced by Vermont native John Dewey. The "fundamental equation" for experiential education is "E+R=L": Experience+Reflection=Learning. As the straight-talking Wyoming cowboy Paul Petzholdt (founder of the National Outdoor Leadership School, or NOLS) so eloquently framed it: "There's a lot of folks out there that'll tell ya' they been climbing for twenty years—that's bullshit—they've been climbing for two years and repeatin' the same mistakes for the last eighteen." All the Experience in the world won't lead to Learning in the absence of the critical integer of Reflection. Similarly, Reflection in the absence of Experience is more perilous than climbing the Grand Teton in cowboy boots—something the young Petzholdt did and lived to reflect upon. Throughout the Ski Guide Course, our cycle of discussion-action-reflection kept us safe and maximized both the ski and learning rewards.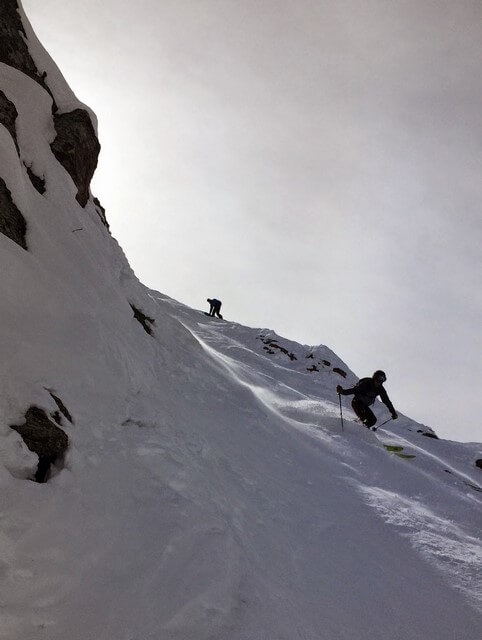 Maximizing the reward!
I went out for a final tour of the season today, my first time skiing straight off the top of Mount Mansfield. The snow pack was still fat up high as we gazed down on the Spring actively underway down by Lake Champlain. Such expansive views invite reflection, and so of course I obliged. While it'd sometimes been a challenge this season to balance my ice and snow aspirations, I felt like I'd done a pretty good job of finding the fulcrum. In fact, the challenges of exploring new mental terrain in skiing has seemed to inform my continuing colonization of the many galaxies ice seems to present me. We threaded through the tight confines of the Hourglass, then opened up wider turns on descent of Hell's Brook. To be honest, the turns weren't the best—with temps hitting 70F in the valley, it was a bit too warm and juicy. But even those challenging molasses conditions didn't dampen my spirits—indeed, it served to stoke them, hopping and turning through tight-terrain-mush that would've had me side sliding or catapulting only a few months back. Tomorrow morning, I'll lay down a thick layer of wax on my skis, store them away, and head to the airport for Alaskan alpine climbing in the afternoon. I won't sharpen those skis' edges—what's the sense when you figure they'll be coming out as soon as next season's first hint of snow glazes the rocks?--but I know they've sharpened mine.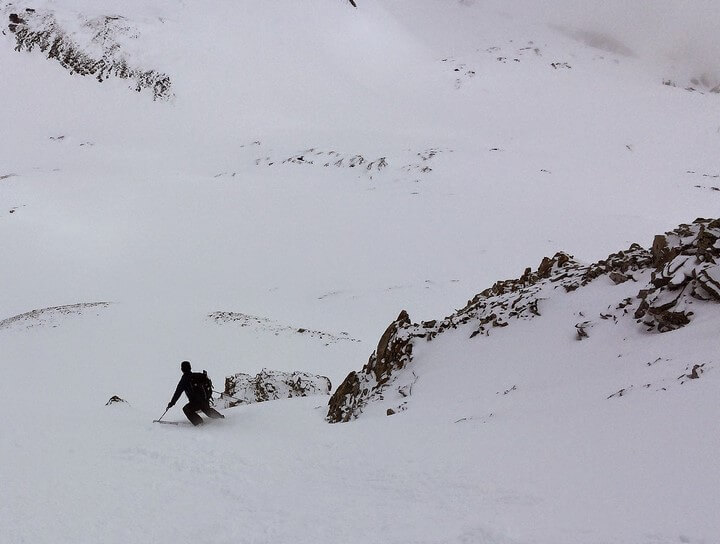 Keep the edges sharp and keep them engaged!