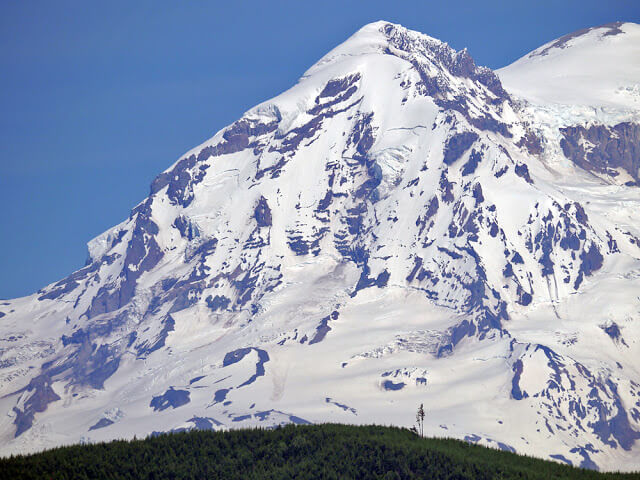 the Mowich Face of Mt. Rainier (via a 600mm lens)
A couple months ago a good friend and I road-tripped out to the Pacific Northwest, from Montana, for an extended weekend of volcano skiing. Though the Cascades experienced one of the leanest and warmest winters in recent memory, blue skies were in the forecast, and I had a break from guiding commitments, so we figured to give it a go, Gumball Rally style.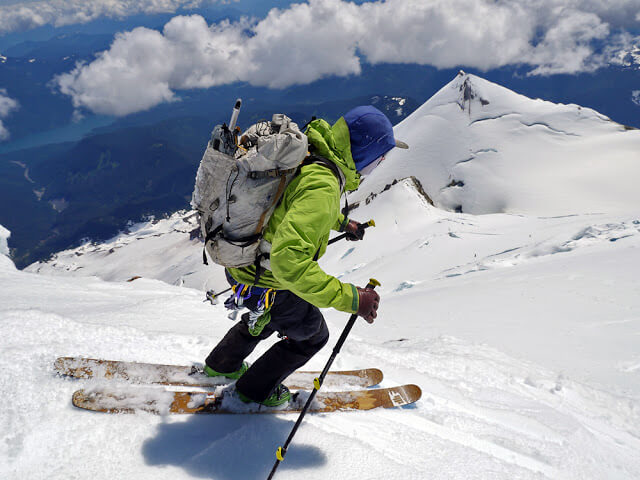 We ended up tackling Mt. Baker and giving a valiant effort on Mt. Rainier, with a day of rest/ travel in between. Go-to Mammut equipment in my kit included: a 70 Twilight Dry (cut it half), the comfortable yet lightweight Zephir Altitude Harness, a Rock Rider Helmet, a Rainspeed Jacket, Stoney GTX Pants, and of course an assortment of Mammut biners (mostly Wall wire gates and Wall HMS lockers).
Going light and fast was the name of the game, with over 8,000' of climbing each day and many a mile of approach, given our more obscure route objectives. Big slots and impressive glaciation kept us on our toes, while ridiculously warm temperatures made it feel like a sauna a times (2 liters of water on route- didn't cut it), thus we should have been carrying a stove.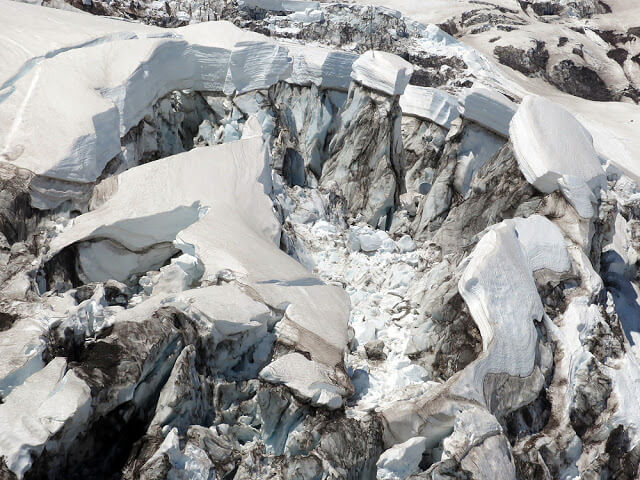 In a nutshell, it was a great learning experience. Particularly in regards to how much effort it takes to do big routes in a day (or link ups). Baker ended up being fairly casual, if not arduous, with a great couple bonus laps into the crater. While Rainier, was on another level. It asked for 110% effort, then asked for more. We were turned around at 12,500', due to
Penitentes
. But in actuality, it was a combination of trying to do a big route 'casually', and not being prepared to step into the void. That's okay though. It leaves us hungry to return when better conditions present themselves. And undoubtedly, I have at least 3 or 4 new routes that I know much more about now, and am eager to return. It's all part of the process. And if it came easy, then it wouldn't mean nearly as much.