The anniversary is on, Mammut is celebrating 150 years offering innovative products to outdoor and mountain enthusiasts. To celebrated this event a selected team of climbers from all over the country arrived in NH and met at the Highland center on Friday evening. Our weekend plan was to climb NH's most beautiful mountain - Mt Washington. The team members were Bill - Mammut CEO, Kristen - Backpacker Magazine gear editor, Dave - Mountain Gear general manager, R D - Access Fund - legal council, Maureen and Mike - Paradox Sports, along with Jim and Matt - MMG guides and myself.
The forecasted mountain weather was for temperatures struggling to reach 5 degrees with a 25 to 40 MPH wind from the west. We all were equipped with the
Peaks Collection clothing
and felt prepared for this cold, blustery climb. The initial climb to Lake of the Clouds surprised us with warm temperatures and no wind. Once we reached the alpine zone the clouds moved in and the temperature dropped quickly to the forecasted single digits. This was exactly what we prepared for and expected on Mt Washington. The team layered up in the 150 Peaks Collection pro shell and added face and eye protection to continue our climb into this amazing alpine area. We all continued up into the fog and clouds on the summit cone. We summited by mid day and the clouds broke treating us to a few moments of views to the south and east.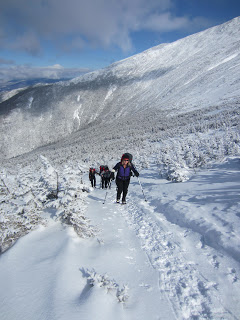 The lower Ammonusuc Trail was in good condition. This made for a fast ascent to Lake of the Clouds Hut.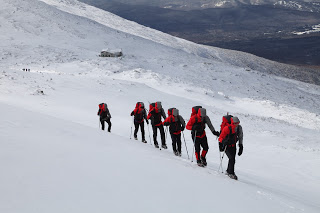 The team in sync as we climbed together across the lower snow slopes.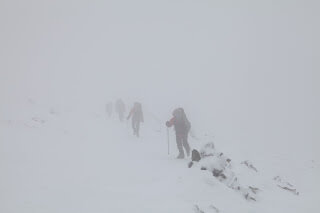 The fog and clouds moved in on the summit area adding excitement to our climb.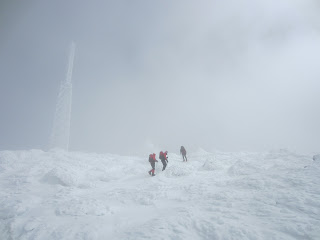 Our first views of the summit towers as the skies opened up on the final push to the top.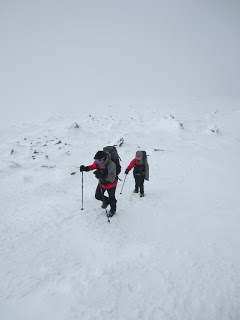 Bill and Maureen arriving at the top of Mt Washington.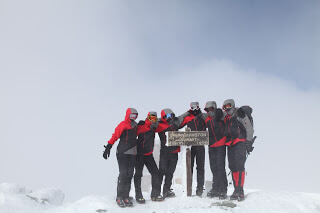 Thanks to Mammut for supporting us during this fantastic celebration. It was an awesome day on the mountain and an absolute pleasure to meet and climb with each of you.
Art Mooney
IFMGA Mountain Guide