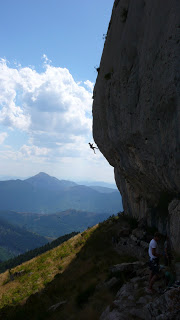 VACATION FROM VACATION: 10 DAYS IN GENEVA AFTER 45 IN SOUTHERN FRANCE/ BIG CHANGES FOR BALAZY-POO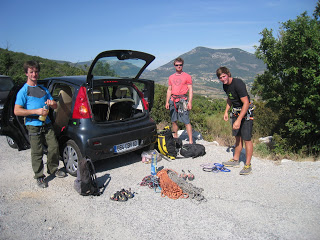 PREPARING TO DIVE INTO THE FIREY DEPTHS OF VERDON GORGE IN JULY
As the summer's been rolling by, I've been undergoing a pretty major metamorphosis. Most normal-lifey/ high-ambitiony people might call it a "degeneration". But just a few days ago, I decided that I would not return to Utah this fall; instead I will say to travel, climb, and write (wait, work?) full-time.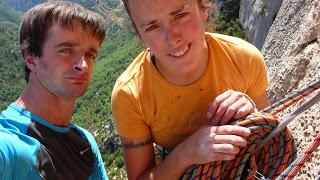 SUFFERING THE CONSEQUENCES OF THE FIREY DEPTHS OF VERDON GORGE IN JULY
Despite the fact that I've been in near paradise for the last six weeks, I've been processing all kinds of introspection –brought to me by many facets of Céüse life: the hike to and from the cliff (nearly an hour up if you take it nice 'n' slow), the intensity of the climbing… and to an extent, periods of relative loneliness –though I've been surrounded by people the entire time, it's been a really transitive crowd of acquaintances and new friends. But, all told, it's been a great experience. OK.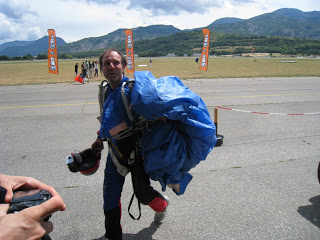 ABOUT TO GO SKYDIVING WITH KEVIN
A few days ago, I decided to not return to Utah in the fall as I had previously planned. Though I'd always intended to go back at the end of August with my round-trip plane ticket, it struck me on the hike down from the crag that I wouldn't be returning home.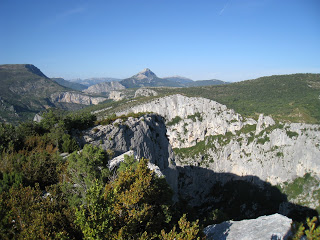 A number of logistical factors, I realized, have aligned to facilitate this prospect and, despite the fact that I will forsake many figments of my Utah: Fall '09 life by not returning (work, weddings, fall season at Indian Creek, Zion, Yosemite), the opportunity to stay in Europe most certainly outweighs the details I sacrifice by not boarding my August 31 st Air India flight #127 FRA > ORD.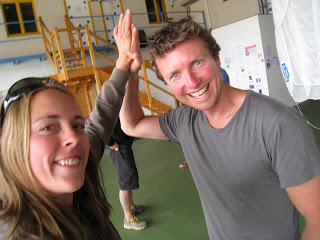 ABOUT TO JUMP OUT OF A PLANE: ARE YOU NERVOUS?
That said, I am attempting to experience a paradigm shift into vagabondness. It has to do with simple logistics like pace of climbing during the day and pace of climbing across a month. It is a mindset shift from Woo-hoo-fun! Land to Woah-this-is-going-to-be-my-life? Land. which is all good, but I feel like I'm the subject of my own experiment. I seem to like to stick myself into new and bizarre situations without much preparation.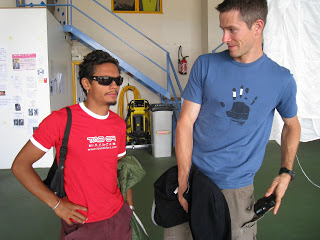 So far, though, I must say the summer as a whole has been great, trials and lulls included. I feel that, though Céüse is a soul-crunching gravity knob, it has nonetheless facilitated my near physical recovery from some grim life changes and, even though I don't feel necessarily in "good shape", I now feel that I've returned to a normal baseline of climbing fitness. (Though I definitely realize I will need more patience with this recuperation that I might have a few years ago.)
THIS DONKEY THOUGHT HE WAS A SHEEP, TOP OF CEUSE
Most of my time in July and August have been in Céüse, but I've also gotten to climb a few days in Orpierre and one hot-as-Hell day in Verdon Gorge. I even learned that just 13 km down the road from Céüse is Europe 's largest skydiving center. So I jumped out of a plane. What's up. Also, my friend, Tye and I hiked to the top of Ceuse via the via feratta. Which was illegal. What's up.