This year was a tough season all around for winter sports. In the Swiss Alps, which is my home base we had extremely warm weather into the beginning of December. I was hiking in a T-shirt into the end of the year, even at high altitudes. By New Year we had some of the biggest storms of the century, downing trees, blocking roads, trains, cars and the ski resorts were forced to close due to high winds. For those of us who were motivated to be out there no matter what we found ways to skin up, but the conditions going back down were treacherous, making normal descents of a half hour, into 2 hour skis, on, skis off, hop over trees, crawl under trees, to get home in one piece. An adventure it sure was.
Things calmed down a bit mid season, but high temps caused the abundance of snow to melt away quickly. Leaving many of our speed ski tracks barren on top, with several race cancellations. It was still possible to race, but only by climbing to the highest snow covered point on rocks wearing nothing but a rubber suit, carrying 8 foot long skis that weigh 15 kilos, speed helmet and poles. At the race in Vars, France I unfortunately was influenced by the bad conditions and placed 5th.
Last week we were inundated again with heavy snow in Verbier, Switzerland for the World Cup Finals. During a one week race, we had 1 sunny day of racing, the rest of the race was cancelled because of thick fog and high winds.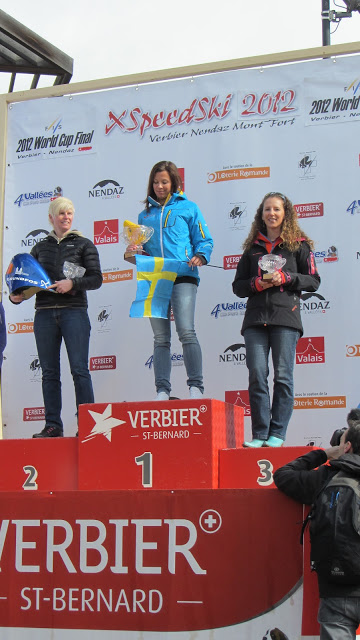 At the Speed Ski World Cup Final, I came in 3rd place. It was great to share the podium with two other amazing women. Sanna Tidstrand (Swe) the women's world record holder took first, and Lisse-Anne Petterson (Nor) Olympic silver medalist came in 2nd, with me trailing in 3rd by .1 km/h.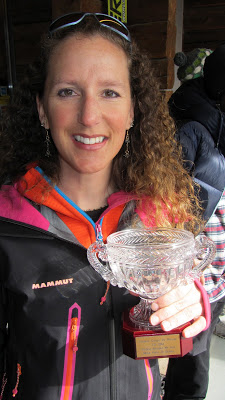 It was a beautiful race with sun and perfect track preparation. At 3300 meters the air is very thin, and the acceleration on the piste is outrageous. In about 10 seconds the race was over. It's a good thing I spent 3 hours waxing my skis!!! I feel that I performed my best and I'm satisfied with my latest podium finish, which was my 40th World Cup Podium of my career!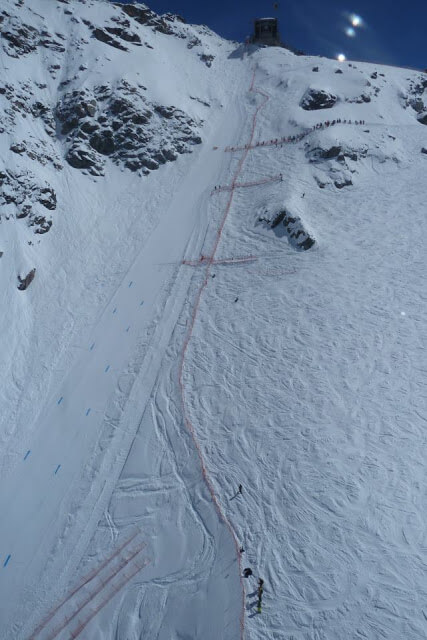 Starting tomorrow I will be assisting in the organization of a World Record attempt in Verbier. This is an invitational race in which the top 5 men and 2 women in the world will attempt to ski off the infamous ramp on the Mont Fort glacier. Everyone is waiting with great anticipation to see what the speeds will be. The first run tomorrow will start at around 200 km/h, and I'm betting the track record will be broken by the afternoon. Stay tuned for more information about the ramp.