Its been a pretty good early ice season this year, and with more snow in the mountains, routes should continue to grow. The Ouray Ice Park is scheduled to open a week early on Dec 12th. Conditions will be fantastic for the Festival starting Jan 8.. Come out and mingle with top climbers around the world, try gear, and get some good instruction.
I've been happily testing out some new pieces from Mammut this Autumn, and have come up with a few new favorites to add to the arsenal. As always the Tripod helmet is the most comfortable and easiest to use helmet on the market, period. Try one on at the fest, you will buy it and wear it everyday.
In the photo below, I'm starting up a somewhat funky first pitch of the classic Skylight climb. Campo Pants and Jasper Pull are a sweet combo for moderate protection and incredible movement.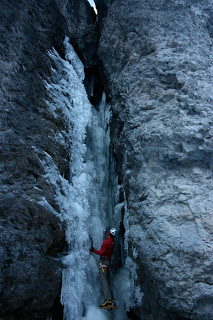 This is on the Ames Ice Hose. There was a party on the ice already so we took some laps on the 5.9 rock pitch start. I'm sporting the Base Jump Pants (my everyday favorite for ice and alpine) and the new Extreme Baltoro Jacket. This jacket is great. Superb protection from dripping ice and howling wind, and stretches and climbs perfectly. Excellent for backcountry ice climbing and alpinism.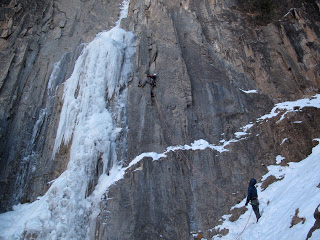 And finally the Direct North Face in South Mineral, another early season mandatory tune up climb. It was a gorgeous day so I went with the venerable Champ pants and Verglas Jacket.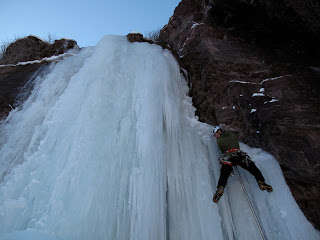 Thanks to Mammut for all the sweet gear! All the SJMG guides are super-psyched on their uniforms this year. We went with the Extreme Baltoro and Stratus Flash pieces this year and they are excellent. Thanks! Thanks! Thanks!
Respectfully Submitted,
Clint Cook
San Juan Mountain Guides
Ouray, CO