Team Mammut - Patagonia Update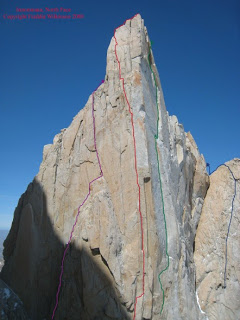 I arrived in El Chalten last week along with the first good high pressure system of the season. Josh and I packed our bags the same day and hiked up the next morning into the Torre Valley.
No wind and perfect blue bird with chilly temps. Not ideal for rock climbing but we made the 4th ascent of a route called Blood on the Tracks which climbs a beautiful steep north face of Rafael. It follows the red line.......it was incredible!
Now we are heading back up for more with better weather in the forecast and our cache in place.
Whit Magro