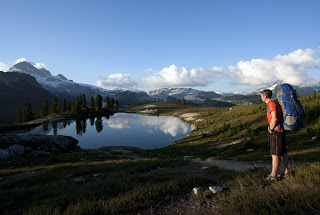 Heron Light in front of Elfin Lakes, Garibaldi Park, Squamish.
With the hot summer weather in Squamish making difficult climbing, well, difficult, we continued to focus on getting into the alpine to explore new areas and research my latest guidebook.Our gear is getting a serious workout this summer and I got to test my new
Heron Light
overnight pack. I've got the 60 +15 litre size and found it pretty much perfect for multi-day trips in good weather (small tent, small sleeping bag, minimal clothing). If you were doing long trips in the off-season, you might want the 70-litre size for more clothing or the addition of climbing gear, et cetera.