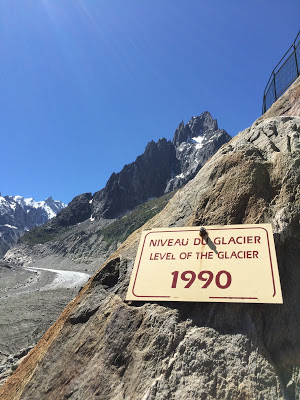 Part way down the staircase from the Montenvers train,
looking down at the Mer de Glace.
Photo: Chris Wright
For those who want to see glacial recession first hand, go and visit the Mer de Glace in Chamonix, France. In 1909, the Montenvers train was built to take sightseers and adventurers up to the Mer de Glace, which when it opened, was at the level of the train. To reach the glacier from the train now, one needs to take a tram down approximately 200m, and then a staircase another 400 steps down, and counting. I have been visiting Chamonix for the last 15 years, and I have seen a dramatic drop in the ice. We often climb over the staircase after skiing from the Aiguille du Midi, making it easy to observe the changes year to year, as the place we enter keeps lowering.